Hawk Talk Monthly — October 2018 | 24 Hawkeyes to Watch 2018-19 | Single Game Football Tickets | I-Club Events Page | Bowl Central
By DARREN MILLER
hawkeyesports.com
IOWA CITY, Iowa — If, and that is a big if, University of Iowa wide receiver Brandon Smith made a touchdown grab in 2017 like he did Oct. 20 against Maryland, it would probably require luck. In 2018, it is predictable.
 
Smith's first career touchdown reception has been shown over and over to the delight of Hawkeye fans everywhere. With 13 seconds left in the second quarter, Iowa quarterback Nate Stanley pivots to his right out of a shotgun formation and lofts a timing pass eight yards deep into the end zone. Despite having Maryland cornerback Tino Ellis tugging on his left arm, Smith makes a one-handed catch with his right to put the Hawkeyes ahead, 13-0.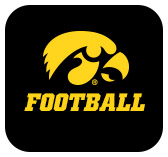 It is a result head coach Kirk Ferentz saw in practice earlier that week.
 
"When you see things in practice that translate to the game, you're talking about a guy who has a good skill set, only in his second year of playing," Ferentz said Tuesday at his weekly news conference. "That's a good thing when those things start to happen."
 
This is an improved Smith, who was one of 10 true freshmen to see action in 2017. The 6-foot-3, 219-pounder from Lake Cormorant, Mississippi, finished his first season with three catches for 15 yards.
 
Smith admits that as a freshman he struggled with alignments and assignments. Things like knowing where to be and when to be there, but that appears to be in the past. In seven games this season, Smith has 14 catches for 199 yards and a long of 30; his career-long reception came against Iowa State and set up a touchdown run on the next play.
 
"The more experience I get and the more I'm out there, the more comfortable I get," Smith said. "It is a big difference from last year: I was new and getting used to college football, now I am more relaxed."
 
Following Iowa's 23-0 Homecoming victory over Maryland, Ferentz told reporters that Smith continues to grow in front of everyone's eyes.
 
"That was big play at a big time," Ferentz said. "That made halftime a lot more enjoyable for everybody."
 
Smith set career records at his high school with 206 receptions, 3,672 yards, and 41 touchdowns. Those are impressive numbers for any level, so when Smith wasn't seeing similar results as a true freshman playing Division I football, he started to strain.
 
"I put a lot of expectations on myself," Smith said. "I was hard on myself for any little thing I wasn't getting as quickly as I wanted."
 
Smith did not have a catch during the season opener against Northern Illinois on Sept. 1. Since, he has receptions in six consecutive games with a season-high five catches for 68 yards at Minnesota. During Iowa's first two-game road trip of the season at Minnesota and Indiana (where the Hawkeyes combined to score 90 points), Smith had eight receptions for 111 yards.
 
"The only goal I really have is to execute at a high level," Smith said.
 
With players like Smith executing at a high level, the Hawkeyes are off to a 6-1 start, becoming bowl eligible for the 17th time in 18 seasons. Their next obstacle is a big one, playing at No. 16/17 Penn State (5-2) on Oct. 27. Kickoff is at 2:35 p.m. (CT).