Hawkeye Fan Shop — A Black & Gold Store | 24 Hawkeyes to Watch 2018-19 | Hawk Talk Monthly — October | Women's Basketball Week | Coach Bluder Video Interview (Twitter) | Megan Gustafson Video Interview (Twitter) | Coaches Teleconference
By DARREN MILLER
hawkeyesports.com
IOWA CITY, Iowa — University of Iowa senior Megan Gustafson has a goal of exceeding expectations placed on her after an All-America junior season with the Hawkeye women's basketball team.
 
For that to happen, she needs to persevere through practices with her high tops filled with proverbial pebbles, compliments of head coach Lisa Bluder.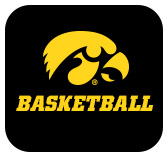 "I have to keep throwing rocks in her shoes," Bluder said Oct. 23 in an interview with the Big Ten Network. "I have to keep making her feel uncomfortable. I have to keep challenging her and she is the type of young woman who really welcomes that. She knows she is not at her best yet and can continue to get better. That's what you want every athlete to understand and have that feeling."
 
The Hawkeyes finished 24-8 last season and advanced to the NCAA Tournament for the first time in three seasons. A big reason was Gustafson, who led all Division I players with 25.7 points per game and 67.1 field goal percentage. She was also third in the country with 28 double-doubles and fifth with 12.8 rebounds per game.
 
"Initially it's kind of exciting to reflect on last year and how our success was individually and as a team," said Gustafson, a 6-foot-3 senior center from Port Wing, Wisconsin. "It is motivation moving forward. I have high expectations and I'm excited to bring them into my senior year and hopefully to live up to people's expectations, if not exceed them."
 
The Big Ten Conference coined the recent stretch from Oct. 22-26 as Big Ten Women's Basketball Week; it was five days with a heavy flavor of Iowa black and gold. The Hawkeyes are picked second to Maryland in the preseason coaches and media poll. Gustafson is a unanimous preseason player of the year, and guard Kathleen Doyle (5-foot-9 junior from Lagrange Park, Illinois) was named to the preseason first-team All-Big Ten team.
 
Last season Doyle played 30 games, averaging a team-high 35.4 minutes per game. She scored 11.1 points with 6.6 assists per game.
 
"Kathleen is more confident and she is very important," Bluder said. "She did an outstanding job with assists and defense last year and leading our team when Tania Davis went down (with an injury Dec. 17, 2017 at Northern Iowa)."
 
While Gustafson and Doyle are getting early attention around the Big Ten Conference, Bluder is excited about the possibility of an injury-free season from Davis, a 5-foot-3 sparkplug who was named to the All-Big Ten Freshman Team in 2016.
 
"Tania Davis is maybe the X-factor because no one saw her play last year," Bluder said. "We only saw her play half the Big Ten games her sophomore year. She is somebody who has been forgotten about. She is one of our best passers, 3-point shooters, and free-throw shooters. Now here she is back and hopefully having an injury-free senior year."
 
For her career, Davis has played 68 games, shooting 83.1 percent from the line and averaging 9.3 points, 4.0 assists, and 1.0 steals per game. When healthy, she is a nightmare for opponents.
 
The 2018-19 Hawkeyes will be much more than a three-person show. The group also has experience with nine returning letterwinners and four returning starters.
 
"We have the crucial elements you need to have a successful team," Bluder said. "We have the point guard (Davis), shooting guard (Doyle), post player (Gustafson), and we have experience at all those positions. In my mind we have everything we need to make a good run in the Big Ten and hopefully the NCAA Tournament."
 
Other returning starters are 5-foot-9 junior Makenzie Meyer (10.8 points, 91.2 free throw percentage, 51 3-point field goals) and 5-foot-5 redshirt sophomore Alexis Sevillian (8.7 points, 59 3-point field goals).
 
Iowa was one of six Big Ten teams playing in the NCAA Tournament in 2018, and anything less this season would disappoint Gustafson.
 
"As a team I would love to get a Big Ten championship," she said. "It's my last year, so I want to put my heart and soul into this and I'm excited to get it started."
 
Iowa hosts Dakota Wesleyan in an exhibition game Nov. 6 on Mediacom Court inside Carver-Hawkeye Arena. Tip-off is 7 p.m. (CT).
 
Iowa women's basketball holds its annual media day Wednesday beginning at 10:30 a.m. (CT).