24 Hawkeyes to Watch 2018-19 | I-Club Events Page | Single Game Football Tickets | Bowl Central | Hawk Talk Monthly — October 2018
By JAMES ALLAN
hawkeyesports.com
IOWA CITY, Iowa — Junior Amani Hooker says the key to stopping a Purdue offense that averages more than 35 points per game is identifying where No. 4 is on the field at all times.
 
No. 4 is the Boilermakers' highlight-waiting-to-happen freshman wide receiver Rondale Moore, a player that averages 202.8 all-purpose yards per game in Big Ten play.  He's a threat in both the running and passing game and is deployed as a decoy to get everyone else involved.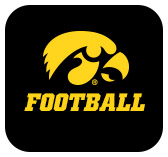 "You have to see where he's at on the field because they're going to try to get the ball to him," said Hooker. "He's a dangerous guy, he's getting 10-11 touches a game.
 
"We all have to be on the same page and if we're all running to the ball and leveraging the ball then we can make plays and try to hold him down."
 
Not many teams have slowed Moore down this season. He has five games with more than 100 receiving yards and has scored seven touchdowns.  In his first collegiate game, Moore broke a Purdue record with 313 all-purpose yards against Northwestern.
 
"We know they can get the ball to him in a lot of ways," said redshirt freshman Djimon Colbert. "We have to game plan against all that stuff. We have to be ready and make in-game adjustments and follow the ball for the full 60 minutes."
 
Junior Devonte Young and freshman Calvin Lockett have been tasked with imitating Moore on the scout team leading up to Saturday's 2:30 p.m. (CT) tilt in West Lafayette, Indiana.
 
"They're giving us good looks," said Colbert. "There aren't many guys that can give us the kind of looks that (Moore) gives us in games, but it's beneficial getting something similar to that. The key this week is getting to the ball every play."
 
Purdue's offense has been potent in 2018, having been held under 30 points just three times in eight games, including a season-low 13 points last week in a 23-13 road loss at Michigan State. In the other five contests, the Boilermakers put up 31, 40, 30, 42, 46, and 49 points.
 
"They have a lot of talent on the outside and great running backs who run physical; they'll truck you if you're in the way," said Hooker. "(Purdue quarterback David) Blough is a good quarterback. He runs their offense well and can make pinpoint throws on all the routes."
 
Purdue running backs D.J. Knox (668 yards) and Markell Jones (308 yards) have combined to average 135.4 rushing yards per game this season, while scoring 10 touchdowns. Blough is completing 66.5 percent of his attempts and he has passed for 2,073 yards with 13 touchdowns to two interceptions.
 
The Boilermakers will provide a stiff challenge to an Iowa team looking to rebound from its second loss of the season — a 30-24 road setback at No. 17 Penn State.  Purdue beat the Hawkeyes, 24-15, last season in Kinnick Stadium.
 
"You have to move on," said Hooker. "If you don't then you're going to get run off the table this week. You have to throw (the loss) behind you, learn from it, and understand you have to move on because there are big opportunities moving forward."
 
The Boilermakers, like Iowa, are 3-2 in the Big Ten play with four Saturdays remaining in the regular season.  Both teams are still alive for the West Division title.  All four of Iowa's remaining conference games are against West Division opponents.
 
"You can't think about the past, you have to move on from last week and get ready for this week because we can still reach all of our goals that we mentioned from day one," said sophomore Geno Stone.  "We can still make it to the Big Ten Championship game. Right now, it's win every day, practice, meeting, and the game Saturday."
 
Saturday's game will be televised on ESPN2 with Jason Benetti, Kelly Stouffer, and Olivia Dekker on the call.