24 Hawkeyes to Watch 2018-19 | I-Club Events Page | Single Game Football Tickets | Hawk Talk Monthly — October
By HANNAH OSSMAN
hawkeyesports.com
IOWA CITY, Iowa — The University of Iowa special teams unit is leading the nation in kickoff returns with guidance from special teams coordinator LeVar Woods.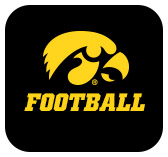 The Hawkeyes have returned 12 kickoffs for 381 yards, averaging 31.8 per return to make them the most successful kick returners this season.
 
"Our guys come to work every day," Woods said. "There is good chemistry on this team, not just on [special teams] but across the board. When the guys like each other, want to work together and work for each other, that's an awesome thing."
 
The Big Ten's leading kickoff returner is sophomore Ihmir Smith-Marsette. His nine returns have resulted in 303 yards. He recorded a season long return of 60 yards, against Indiana.
 
The league changed the kickoff rule this season, allowing fair catches on kick returns. Some teams have opted to take advantage. The Hawkeyes make a decision based on each kickoff, and have yet to go the fair catch route.
 
"If there is an opportunity to return [a kickoff], we will, but we'll also play smart," Woods said. "If we don't think it's going to help us out, then we'll go ahead and fair catch it. I think a lot of teams are in that same mindset. It all depends on the kick, the location and hang time of the kick."
 
The rule change has encouraged a new perspective for the kickers as well. Senior Miguel Recinos has kicked off 48 times. Iowa's opponents have returned only 13.
 
"Some teams have chosen to fair catch, others have returned," Woods said. "We have to make sure we're alert. Last week, we allowed a [long] kickoff, which is still bothering me. We haven't done that in a long time from a kickoff standpoint. Every week we go into it, facing dangerous returners in the Big Ten. We have to cover and try to make a play to help our defense."
 
Adding to the special teams' success, junior punter Colten Rastetter has improved from his sophomore season, averaging 42 yards per punt. He also recorded a career long 69-yard punt against Northern Illinois.
 
"With Colten [Rastetter], his approach to his work has helped him a lot," Woods said. "He's very diligent every day in how he comes out to practice and how he works. [We] settle him down and give him just a few things to do rather than a hundred things to do. I think it's helped him improve. He's not where he needs to be or where he's going to be, but I think he's on the right track. Across the board, both of our punters have really improved from last year. No one has seen Ryan [Gersonde] punt in a game yet, but he has done a good job, as well, improving his game."
 
Another element of special teams that has been working in Iowa's favor is the trick plays. Iowa successfully converted two fake punts for touchdowns against Minnesota and Penn State.
 
"There is a lot of practice and thought that goes into [fake field goals]," Woods said. "Coach [Kirk] Ferentz makes the call. If he likes it and we do it well in practice, he'll call it. If we don't, he won't call it. We try to make it look good in practice. They've helped us out and we've been successful, thus far. Again, there's a lot of work that goes into it. Just running it on Saturday isn't a thing. There are months that go into prepping for that play."
 
The Hawkeyes hit the road to compete at Purdue on Saturday. Kickoff is at 2:35 in Ross-Ade Stadium. The game will air on ESPN2.