Hawkeye Fan Shop — A Black & Gold Store | Hawk Talk Monthly — November | 24 Hawkeyes to Watch 2018-19 | Box Score (PDF) | Boxscore
IOWA CITY, Iowa — The University of Iowa volleyball team (13-11, 5-8 Big Ten) returned to its winnings wins in a 3-0 sweep over the Rutgers Scarlet Knights (6-20, 0-13 Big Ten) on Friday night inside Carver-Hawkeye Arena.
Junior Cali Hoye led Iowa with 13 kills, sophomore Brie Orr had 39 assists, and senior Molly Kelly registered 24 digs.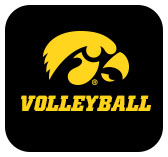 HEAR FROM COACH SHYMANSKY
"We need that victory tonight. I thought we started strong and played pretty steady. We are working to get our offense clicking as we tweak some things in our lineup. I thought that was really nice balance from our hitters and our middles eventually got it going. Molly Kelly really anchored us in the back row both passing and defensively – 24 digs is a nice number. The big thing for us is being efficient and effective. We talked all week in our preparation about getting that Hawkeye mentality back and our true mental toughness. I am very proud of our gals tonight. Overall, just a great team effort and performance with strong communication and intensity."
HOW IT HAPPENED
SET 1 (25-16) | Senior Reghan Coyle got things started in the first set with a kill and immediately gave Iowa the momentum throughout the set. Iowa opened up to a 7-3 lead over Rutgers. The Scarlet Knights fought their way back into the set at 9-7, but only briefly as the Hawkeyes strolled toward a commanding 22-15, while Rutgers called its final timeout of the set. Iowa closed the set on a three point run with senior Taylor Louis notching the final point on an off-balance attack that split the Rutgers defense.
SET 2 (25-20) | Rutgers came out fast in the second set, recording bursts of three consecutive kills and blocks to take a 4-8 lead. Iowa found its groove and started chipping away at its largest deficit of the match, eventually tying the game at 13 from a block by freshman Hannah Clayton and Coyle. Iowa continued to stymie the Rutgers offense, outscoring the Scarlet Knights 11-3 on its way to a 20-16 lead. Junior Cali Hoye took the rest of the set in her hands as she scored Iowa's last four points as the Hawkeyes looked to clinch the sweep in the third.
SET 3 (25-17) | Iowa opened the third set on fire, taking a 8-4 lead. Rutgers closed the gap to 11-10, but a four-point spurt by Coyle gave Iowa a dominant 15-10 lead. Iowa continued to berate the Scarlet Knights from every angle. Iowa finished the set and match with a kill from freshman Amiya Jones.
NOTABLES
Iowa had three players with double-digit kills (Louis; 11, Coyle; 10, Hoye; 13)
Sophomore Halle Johnston tied a career-high with three service aces.
UP NEXT
The Hawkeyes host No. 8 Nebraska on Wednesday, Nov. 7 inside Carver-Hawkeye Arena. The match will serve as military appreciation night. Tickets for the match are available online at hawkeyesports.com/tickets or over the phone at 800-IA-HAWKS.