Hawkeye Fan Shop — A Black & Gold Store | Hawk Talk Monthly — November | 24 Hawkeyes to Watch 2018-19
By JACK ROSSI
hawkeyesports.com
 
IOWA CITY, Iowa — As the temperature drops and the leaves change color, it serves as a reminder to the University of Iowa volleyball team as to how long its season is as the team changes gears heading into the second half of its Big Ten schedule.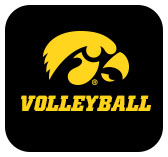 The Hawkeyes began their 2018 campaign in August and now enter November, the final month of the season, at 13-12 and 5-9 in Big Ten play. With a couple historic wins under its belt so far, Iowa looks to persevere and finish the season strong while searching for its winning ways once again.
 
"October into November is the toughest part of the season," UI head coach Shymansky said. "You are not at the beginning and you are not at the end. We are always tweaking and changing things as a coaching staff from a day-to-day basis and still making sure that we are anchored in a daily discipline. That is getting down to work and doing the same things that we always do."
 
Part of the tweaks the team is making is also making sure they are using each player to their fullest potential.
 
"As we're searching for new lineup solutions, this is the time where each individual player has to make sure they are serving their team with the uniqueness they bring into our team atmosphere," Shymansky said.
 
Fortunately, the Hawkeyes will be able to continue their search inside Carver-Hawkeye Arena for the majority of the season.
 
"We're excited that five of our last eight matches are at home so we want to take advantage of that," Shymansky said.
 
Playing at home gives Iowa a definitive advantage because winning on the road in the Big Ten is a challenge.
 
"We've been road warriors this year and have some big road wins and none bigger than the one at Iowa State and that has moved our belief forward in our program," Shymansky said. "Now we need to be able to do that at home. This is where we would expect the maturity and discipline and experience of our upperclassmen leadership group to keep us on our mission."
 
While the upperclassmen's expectations are clear, the underclassmen are still learning the ropes as they prepare to sprint toward the finish line. Freshman Amiya Jones has been a steady presence in her first year, playing every set for the Hawkeyes this year.
 
"Amiya has shown she has great potential and she is starting to utilize that potential as she becomes more of an offensive threat," Shymansky said. "There is so much self-doubt and questioning when you are playing in the Big Ten as a freshman. You just have to keep working forward."
 
Iowa hosts Nebraska on Wednesday at 7 p.m. (CT). The match will air live on the Big Ten Network. Tickets are available for both matches at hawkeyesports.com/tickets or over the phone at 800-IA-HAWKS.