Hawk Talk Monthly — November | 24 Hawkeyes to Watch 2018-19 | Single Game Football Tickets | I-Club Events Page
By HANNAH OSSMAN
hawkeyesports.com
IOWA CITY, Iowa — Behind every college football team is a strength and conditioning staff dedicated to building student-athletes to compete at their highest potential. At the University of Iowa, director of strength and conditioning Chris Doyle has played a key role in the Hawkeyes' development for 20 seasons.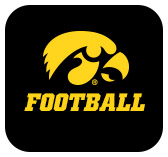 Since Doyle took over the strength and conditioning staff, the Hawkeyes have recorded 149 wins, an undefeated regular season (2015), and 15 bowl games. Iowa bowl games included 11 in January with wins over Florida (2004 Outback), LSU (2005 Capital One), South Carolina (2009 Outback) and Georgia Tech (2010 Orange).
 
"[The success] points back to 1999. When we came here, Coach Ferentz had 10 years of experience at the University of Iowa," Doyle said. "His directive at that time was that we needed to excel in the area of strength and conditioning. We could not be average and excel as a football program in the Big Ten.
 
"We're a developmental program and always have been, so that means that we might recruit some guys that may be a little under the radar, have to change a position, and develop over time. For that reason, strength and conditioning is a very important part of the process."
 
A lot of prospects come into the program straight from high school where strength and conditioning is not at the level required of Division I athletes. Coach Doyle and his staff help to prepare them for the years ahead of them starting with assessments of their physicality.
 
"Once we get the young guys in June, it all starts with the evaluation process," Doyle said. "We put them through a battery of 10 tests to identify how their body moves and if they'll need any corrective exercise. We're looking at mobility and stability. We do some performance testing as well, while testing their ability to run straight ahead, change direction, and jump. We do some forced play testing, and we identify their training maturity. It's about gathering enough information so that we can individually design programs to meet their needs."
 
With the results from testing the athletes, each athlete is then given a personalized workout plan to best fit their needs to get onto the field. The staff has developed five basic plans that are modified to fit the individual's needs.
 
"Training maturity plays a big role in our individualized program design," Doyle said. "We have five levels of training maturity: developmental one, developmental two, transitional, team, and advanced. Guys progress through those stages during their career. The deeper they get into their career and the more complex the training becomes, the more the rate of force development and powerful the training becomes. Also, the closer they get to the ceiling of potential, we have to be extra careful with their recovery rate because the training is so demanding so the guys can progress."
 
Doyle and his staff also play an integral part of building athletes back up after injuries. They work with sports medicine and athletic training to ensure athletes are healthy and can safely return to the field.
 
"[With injuries] the first step is having effective communications [with the medical staff]," Doyle said. "That starts with meeting and planning. Every single week during the season, coach Ferentz sits down with our sports medicine team of doctors, trainers, and strength and conditioning staff. We sit down and go through every single case and develop plans. Then, we go about executing those plans and adjusting them. They progress typically more with sports medicine and then into a phase of reconditioning with us. We move them on to the field when they're ready. We use testing and analytics to make sure a guy can safely return to play."
 
The Hawkeyes host Northwestern on Saturday at 2:42 p.m. (CT) at Kinnick Stadium. The game will be televised on Fox.