Hawk Talk Monthly — November | 24 Hawkeyes to Watch 2018-19 | Hawk Talk Daily links | I-Club Events Page | Single Game Football Tickets | Bowl Central
By JAMES ALLAN
hawkeyesports.com
IOWA CITY, Iowa — No one is flinching on the University of Iowa football team with three games remaining in the regular season.
 
There is disappointment inside the Stew and LeNore Hansen Football Performance Center following back-to-back road losses at No. 17 Penn State and Purdue. The defeats saw the Hawkeyes' Big Ten West Division title hopes falter, but the team is focused on moving forward and finishing strong.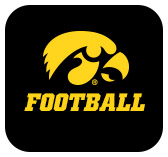 "It's tough having your goals taken away from you," said senior defensive end Parker Hesse. "With adversity, it's difficult, but as a senior and with the other experienced leaders, we want to make sure we stick together and play as well as we can.
 
"We still have a good football team and we have the potential to play three good games down the stretch."
 
Junior Amani Hooker says the Hawkeyes haven't let the losses linger.
 
"We're upset that we lost, but our mindset is positive and we keep moving forward," said Hooker. "We're not going to back down and quit and let the season go downhill.  We're going to move forward and try to get these next few wins.
 
"We don't want to have six wins, we want nine. We want to come out and compete.  We are 3-4 possessions away from being undefeated. It comes down to finishing and getting better every week because each week is a new challenge."
 
Resilient is the word Hesse uses when asked how he wants the 2018 Hawkeyes to be remembered.   
 
"Some things haven't gone the way we wanted, but we want to be remembered as a tough team and one that stays together," said Hesse. "After (the losses at Penn State and Purdue), (I want people to say this team) got up, pulled together, and played its best football down the stretch.
 
"The people who become successful are the ones that get up the next day, reset their mind and say they still have things to accomplish and they get after it. That's what we have been doing this week. We just want to win Saturday."
 
The Big Ten West-leading Northwestern (5-4 overall, 5-1 Big Ten) comes to Kinnick Stadium on Saturday for a 2:42 p.m. (CT) kickoff.  The Wildcats have won the last two games in the series, winning 38-31 in Iowa City in 2016 and 17-10 in Evanston last season. 
 
"Both teams are tough and try to do the same things," said senior defensive lineman Sam Brincks. "We play tough defense and stop the run.  We know each other inside and out so it will be another tough game."
 
Northwestern is winning despite its non-gaudy numbers. The team is eighth in the Big Ten in scoring defense, surrendering 24.4 points per game, and 12th in scoring offense (24.7 points). With senior quarterback Clayton Thorson under center, Northwestern is third in the conference in passing offense (264.7 yards), but injuries to the rushing attack has the Wildcats sitting last in the league in rushing offense (93.0 yards per game).
 
"This team has an identity, they work hard, play tough, and are not going to let you push them around," said Hooker. "They come out and compete every game and sometimes teams can't match that."
 
Tickets are available to Saturday's game through the Iowa Athletics Ticket Office at 800-IA-HAWKS or at hawkeyesports.com/tickets.  The game will be televised on FOX with Joe Davis, Brady Quinn, and Bruce Feldman on the call.