Hawk Talk Monthly — November | 24 Hawkeyes to Watch 2018-19 | Single Game Football Tickets | I-Club Events Page | Bowl Central
By DARREN MILLER
hawkeyesports.com
IOWA CITY, Iowa — For the eighth time since 2011, on the Saturday nearest Veterans Day, the University of Iowa football team will modify its iconic Tigerhawk logo that is affixed to game helmets.
 
When the Hawkeyes (6-3 overall, 3-3 Big Ten) host Northwestern (5-4, 5-1) on Nov. 10, the black Iowa helmets will be decorated with three prominent stickers. On the right side will be a Tigerhawk in red, white, and blue, resembling the flag of the United States of America. Above the Tigerhawk, near the gold stripe down the middle of the helmet, will be a gold America Needs Farmers (ANF) sticker.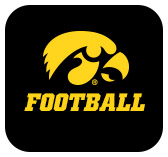 The Tigerhawk logo is in recognition of men and women in all branches of the military around the world, who are serving, or have served, their country.
 
The biggest change from year's past will be on the left side of the helmet where every Hawkeye player will wear a gold numeral 24 in honor of Nile Kinnick. Winner of the 1939 Heisman Trophy, Kinnick, was born 100 years ago (1918 in Adel, Iowa) and died 75 years ago (1943 in the Gulf of Paria off the coast of Venezuela). His jersey No. 24 is one of two retired numbers for the football program; Iowa Stadium was renamed Kinnick Stadium in 1972.
 
Typically, the left side has been left black in honor of all men and women of all branches of the military who gave their lives in the line of duty. That includes Kinnick, who died on a routine training flight in a Grumman F4F Wildcat from the aircraft carrier USS Lexington on June 2, 1943.
""Honoring all members of the military is something we enjoy promoting each year in recognition of Veterans Day," said Iowa head coach Kirk Ferentz.  "With the anniversary dates of Nile Kinnick's birth 100 years ago, and his tragic, untimely passing 75 years ago while serving our country, this is certainly an appropriate tribute to him, as a former Hawkeye and a true national hero."
 
Iowa is 7-1 in games when it wears alternative Veterans Day decals. The first time the Hawkeyes wore the patriotic Tigerhawk was Nov. 5, 2011, against Michigan. They defeated the No. 13 Wolverines, 24-16. Since then, Iowa has lost to Purdue (27-24 in 2012) and then started a five-game "Veterans Day" winning streak. The 2013 and 2015 games were on the road, with the Hawkeyes winning at Purdue (38-14 in 2013) and at Indiana (35-27 in 2015).
 
For the game against Northwestern on Nov. 1, 2014 — a 48-7 win by Iowa — the Hawkeyes wore Tigerhawks with desert sand camouflage coloring.
 
The last two years, Iowa has upset top three teams: 14-13 over No. 2 Michigan in 2016 and 55-24 over No. 3 Ohio State in 2017.