Hawk Talk Monthly — November | Hawkeye Fan Shop — A Black & Gold Store | Hawk Talk Daily | Live Results
By HANNAH OSSMAN
hawkeyesports.com
IOWA CITY, Iowa – The University of Iowa cross country teams head to Peoria, Illinois, to compete at the NCAA Midwest Regional hosted by Bradley University on Friday.
In 2017, the Hawkeyes finished 11th and 12th in the men's 10,000 meters and women's 6,000 meters, respectively. Iowa is hoping to better its results this year.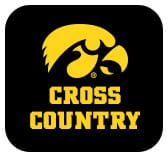 "We want to improve our standing in the Midwest Region from the past couple of years," cross country head coach Randy Hasenbank said. "If we're focused and dialed in, that can happen. I think both teams should be battling for top-six finishes. That would be a good step forward for both teams."
Heading into Friday's races, the men's team is ranked fifth and the women's team ranks eighth in the Midwest.
Junior Nathan Mylenek has led the Hawkeyes the last few weeks of the men's season. On the women's team, it has been senior Andie Shine pacing the squad. Both teams are looking to the upperclassmen to hold down their scores.
"As far as individuals, I feel confident that both Andie and Nate will have the opportunity to chase a couple of those at-large spots," said Hasenbank. "I don't know that we are quite where we want to be as far as advancing teams into the national meet. That might take a little more time, but as far as those individuals, they're very capable. I'm excited for them."
Mylenek and Shine have similar goals for the weekend, wanting to make it through to the NCAA Championships individually, but also hoping their teams have the opportunity to continue the season.
"The goal is to make it to the national meet, one way or another," Mylenek said. "Ultimately, I'd like to hit an individual spot, but ideally, the entire team will make it. The goal is to hit that first or second place spot, but if we take third, there is still a pretty good shot that we can make it."
Shine echoed Mylenek's goal, expressing that she would like to see the women move up in the rankings.
"Last year we were 12th. I think we can really sky rocket in the results," Shine said. "Everybody is feeling good and ready to compete. I don't really have an expectation other than going up in the results."
Both runners would like to see improvement in their personal finishes from last season. Shine finished 20th in the women's 6,000 meters and Mylenek set the school record (29:53.15) in a deep field finishing 32nd.
Results for Friday will be posted on the Iowa cross country Twitter account: @Iowa XC_TF and online at hawkeyesports.com.