24 Hawkeyes to Watch 2018-19 | Hawk Talk Monthly — November | Hawk Talk Daily links | I-Club Events Page | Single Game Football Tickets | Bowl Central
By MIKE CHAPMAN
special to hawkeyesports.com
 
Editor's Note: Mike Chapman was sports editor of the Gazette in Cedar Rapids from 1978-84 and retired from a 35-year newspaper career in 2002. He is the author of 30 books, including "Triumph and Tragedy: The Inspiring Stories of Four Football Legends."
 
 
IOWA CITY, Iowa — The year 2018 marks a special time in the annals of University of Iowa football, for it was 100 years ago that the Hawkeyes' greatest football player arrived on the scene — and 1918 was also the year that Iowa's first All-American died in heroic action during World War I.
 
Nile Kinnick was born in Adel, Iowa, on July 9, 1918, and embarked upon a career that would make him a legend for all time. Just nine days later, Lt. Fred Becker of Waterloo, Iowa, was killed while leading his squadron in fierce fighting in France.
 
While Kinnick has been at the top of the list of Hawkeye legends for decades, Becker was relatively unknown to even the most ardent fans until the past few years. But the fact is, Becker and Kinnick have a great deal in common. Both were popular in high school and college, both were All-American football players, and both were successful in their young lives, with great promise for the future.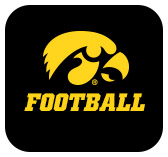 Sadly, both died far, far too soon.
 
Becker was born Nov. 6, 1895. Though thin in stature, Becker had one characteristic that stood out all through his lifetime: It was his "fighting spirit" that set him apart from other young athletes, said a Waterloo reporter at the time.
 
Handsome and popular, Becker was involved in a variety of school activities, ranging from football, basketball, and track to several organizations. He was an officer of the junior class at East High and was also a member of the popular German Club. Little could he have imagined that he would one day give up his life fighting against Germany, the country where his mother was born, and where his father's side of the family had originated.
 
After winning acclaim as the finest football player in East High's short history, Becker moved on to the University of Iowa, and quickly made an impact. Though limited to duty on the freshman team in the fall of 1915, he often scrimmaged against the varsity. The Hawkeyes were coached by Jess Hawley, who had a keen eye for talent — and for keeping his varsity athletes healthy.
 
Becker's "work against the regular center (on the varsity) was so strong that coach Hawley was at times forced to stop him from playing for fear that he would hurt the regular man," wrote a reporter for a Chicago paper.
 
In 1916, Iowa had a new leader in Howard Jones, destined to become a coaching legend years later at the University of Southern California, and Becker earned a spot in the line. At season's end, he became the first All-American player in school history.
 
Iowa began the 1916 campaign with wins over Cornell, Grinnell, and Purdue, but was overwhelmed by Minnesota, the nation's top program, in a 67-0 rout. After losing to Northwestern in a tight contest, the team rallied to beat Iowa State, 19-16. It was destined to be Becker's finest moment as a Hawkeye.
 
"The play of Becker, brilliant throughout, bulwarked Iowa's forward wall," said the authors of 75 Years with the Fighting Hawkeyes. "With his team holding a narrow 17-13 lead in the fourth period against Ames, Becker crashed through to block two Cyclone punts, one giving the Hawkeyes an insurance safety and the other to keep the surging hosts deep in their own territory."
 
During the season, Becker established just as solid a reputation off the field. He joined the Kappa Sig fraternity and, judging by a story in the Waterloo paper, he was making an impact everywhere he went:
 
"Fred Becker, the former East High star who is playing center on the Iowa University varsity this year, is one of the most-liked men on the campus of Iowa City. Every magazine and newspaper which is published in the university town has spoken highly of the Waterloo boy's showing and has commented on his likeable character."
 
His combative spirit was mentioned prominently, as the paper added that "he is on the high road to football fame. With only 166 pounds to back him up, he has made the team in his sophomore year through sheer fight and ability."
 
Though the team was just 4-3 for the season, the accolades began to roll in for the toughest Hawkeye. Becker was selected to the All-Western Conference (forerunner to the Big Ten) team by four newspapers. An article in a newspaper summed it up this way: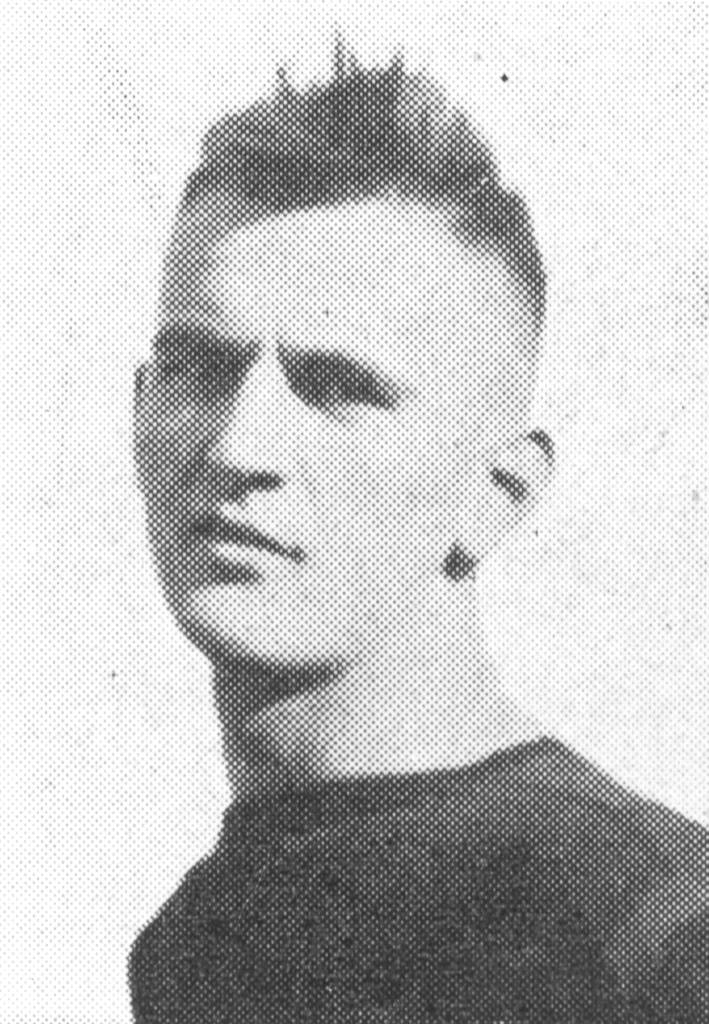 "The honors came to the Waterloo boy because of his fighting qualities, which have manifested themselves from the time Becker first began playing the gridiron sport. This is the first time that a local football player has been chosen on an all-conference team, which makes it all the sweeter for him."
 
He was also awarded a spot in the line on the All-American first team selected by Walter Eckersley, the foremost football writer of the time.
 
"No matter where he was placed, his work was a feature," Eckersley wrote. "He was strong and powerful and quick to size up the attack of his opponents. He seldom failed to open holes for the backs and was on top of the play all year."
 
When Eckersley added that Becker was "unparalleled in Iowa football annals," he still had two seasons ahead of him. No previous Hawkeye player had achieved such stardom on the national scene, and at such a young age.
 
But his bright future ended abruptly when war drums began to beat in the United States in the fall of 1916 and early 1917. Europe had been embroiled in what was called the Great War for more than two years and Becker was among thousands of young Americans who wanted to test their mettle by going overseas once the United States entered the conflict. He enlisted on March 16, 1917, and was commissioned a second lieutenant on Aug. 15. A story in the Waterloo paper told of the impact he made on those around him in training and in war:
 
"During his course of training at Fort Snelling and since his transfer to active duty in France, he has won the praise of the officers with whom he was associated. He was absolutely fearless on the football field and carried this same spirit into his duties on the battlefield."
 
After a brief visit to Waterloo, he departed Aug. 27, for the last time. After a long sea journey and additional officers training in France, he arrived on the front line of battle in the heat of the war.
 
On June 3, 1918, Becker was wounded when struck in the left shoulder by a piece of high explosive shell. Twenty days later, Becker wrote to his parents and said his company had been under heavy fire for more than two hours at the time he was injured. One sentence in particular offered more evidence of his fighting spirit:
 
"Everyone wants to get into action and all feel slighted when they are not engaged in combat when there is important work to be done," he wrote.
 
The last major offensive launched by the Germans on the Western Front began on July 15, 1918, and lasted until Aug. 5. During that period, Allied losses were stunning: 125,000 men were killed, including 12,000 Americans.
 
Three days following the start of the battle, the Allies stopped the German army after ferocious fighting. Eight large American Divisions, under General John J. "Black Jack" Pershing, teamed up with 24 French divisions for a furious counter-attack. Becker was fighting with the 5th Regiment of the United States Marine Corps.
 
On that day, the former Hawkeye football star displayed the valor that would earn him the Distinguished Service Cross.
 
With his platoon pinned down by a German machine gun nest, Becker moved forward and took out the nest. The exact details are lost in the mists of time, but according to information sent from service officials, his action was crucial in "preventing the death or injury of many men in his command."
 
The Marine Corps report continued: "….his self-sacrificing courage permitted his platoon to advance, but as he completed the performance of this noble work, he himself was killed."
 
Becker was buried where he fell, but when the war ended, his body was brought back to Waterloo. On May 14, 1921, a crowd of 5,000 gathered in Fairview Cemetery to see the young hero laid to rest.
 
On July18 of this year, Waterloo honored the 100th anniversary of the passing of Becker with a ceremony at Fairview Cemetery. Among those who came to pay their respects were Andy Piro, executive director of the Iowa Varsity Club, and former Hawkeye football stars Bill Windauer and Dave Triplett. Members of two veterans groups fired a 21-gun salute after four speakers talked passionately about the legacy of Becker.
 
The life of Kinnick parallels that of Becker in several ways. Like Becker, he was a star athlete in high school, making all-state in both football and basketball, first at Adel High and then at Benson High in Omaha, where his family moved prior to Kinnick's senior season.
 
At Iowa, he also had an outstanding sophomore season (1937), leading the nation in punting and being named first-team All-Big Ten and third-team All-America for coach Irl Tubbs. He was also the second-leading scorer on the Iowa basketball team, but gave up the sport after one season to concentrate on academics and football.
 
Kinnick was below par for much of his junior season with an injury, and then came 1939. With a new coach, Dr. Eddie Anderson, and behind the inspired play of Kinnick, the Ironmen finished 6-1-1 and placed ninth in final AP poll. Kinnick swept all the top awards, winning the Heisman Trophy, Walter Camp Trophy, Maxwell Trophy, and being named Big Ten MVP. He was the leading vote-getter for the popular College All-Star game, which annually pitted the collegians against the NFL champions.
 
Incredibly, he even won the Associated Press Male Athlete of the Year award, topping professional stars as Joe Louis, world heavyweight boxing champion, and Joe DiMaggio, star of the New York Yankees.
 
And Kinnick was just as big a standout outside the athletic arena. He was president of the senior class at Iowa and a Phi Betta Kappa scholar. Kinnick passed up a large bonus to play professional football and instead entered law school at Iowa.
 
Like Becker, Kinnick kept a keen eye on world events. Even before the United States entered World War II, he signed up with the Naval Air Corps Reserve. On Dec. 4, 1941, he was called to active duty. He was assigned to the USS Lexington, an aircraft carrier, and on June 2, 1943, he flew off the deck in his small Wildcat 4F4 plane on a trial run, in the Gulf of Paria, off the coast of Trinidad and Venezuela. His plane malfunctioned and it went down in calm seas, but a rescue mission failed to find any traces of the plane. Unlike Becker, his body was never recovered.
 
Earlier, Kinnick wrote to his parents, stating, "I hope God will give me the courage and the ability to conduct myself in every situation that my country, my family, and my friends will be proud of me."
 
Soon after word of his death reached Iowa, there arose an effort to name the Iowa football stadium for Kinnick, but his family protested politely, saying there were many other young men and women who had lost their lives in the war and it would not be proper to single out just one. But in 1972, Nile Kinnick, Sr., finally gave his blessing and the stadium was named for its only Heisman Trophy winner.
 
Ironically, there had been a move in 1920 to name the Iowa football field for Becker, but the effort faded away after several years.
 
A high school at the U.S. navy base in Yokosuka, Japan, is named in Kinnick's honor, as is the football field at Northwest High School in Omaha. Becker has an elementary school in Waterloo carrying his name. In addition, American Legion Post 138 in Waterloo is named for Becker (and Carl Chapman, another city native who died in World War I) and there is a plaque in front of East High saluting Becker's service to the country.
 
Four years ago, when Becker-Chapman Post 138 held an event to raise funds for a sign on the building, Kirk Ferentz drove to Waterloo to help the cause and donated several items. He told the crowd that the Becker saga had touched him and he feels it is important to keep such stories alive for future generations.
 
***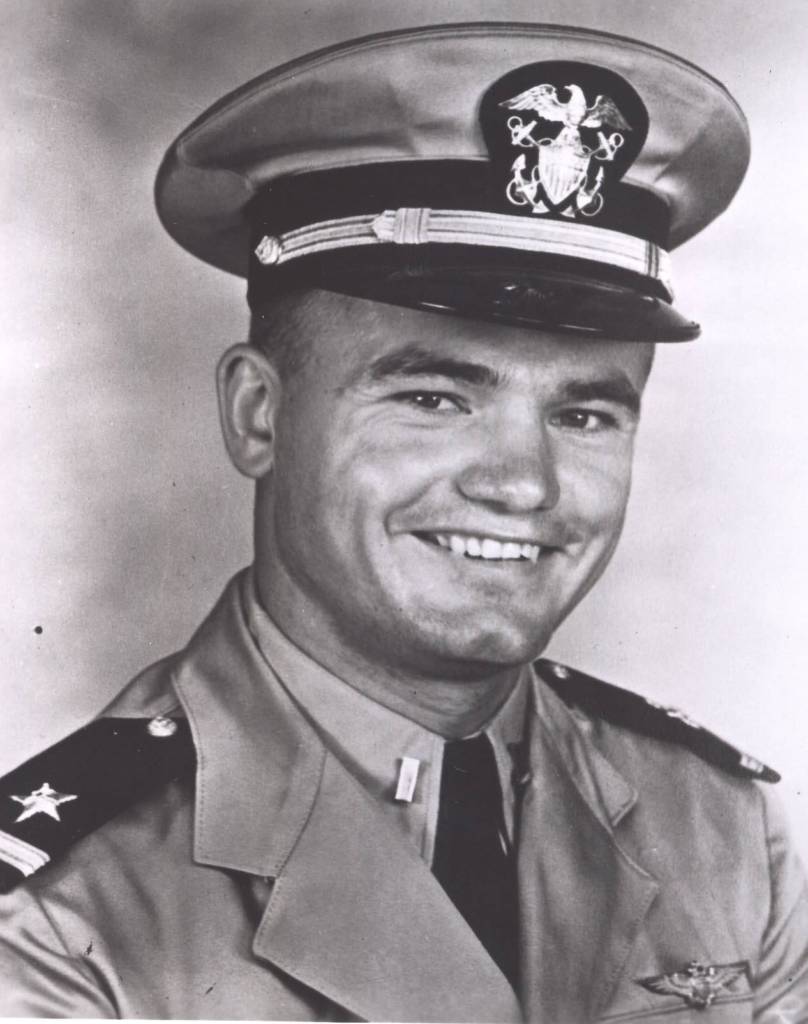 The USS Lexington saw action in a dozen major battles during World War II and was called "The Blue Ghost" by the Japanese for its ability to survive attacks and its bluish hue when seen on the horizon. In 1992, it was moved to the bay at Corpus Christi, Texas, and turned into a museum. The massive ship — it is 19 stories tall and can hold three football fields on its main deck — offers a magnificent view as visitors approach along the coastline.
 
The USS Lexington has become a popular tourist attraction with nearly 300,000 visitors a year. Those walking through the main entrance and turning to the right are greeted by an impressive display devoted to Iowa's greatest Hawkeye. Encased are photos of Kinnick as a pilot and as an athlete; a short biography in large print; the book "Triumph and Tragedy," with chapters on both Kinnick and Becker; the book "A Hero Perished," which is Kinnick's diary and offers fascinating insights into his thoughts, and a copy of the magazine Iowa History Journal with Kinnick on the cover.
 
But most impressive is the large Big Ten Medal up front on a pedestal. A similar coin — with Kinnick's image on one side and the Big Ten Conference emblem on the backside — is flipped at the start of every Big Ten football game.
 
Les Steenlage, associate athletic director at Iowa (since retired), was responsible for working with the Big Ten Conference to present the medal to the Lexington for display.
 
There is one more emotional connection between these two great Hawkeyes of the past. When accepting his Heisman Trophy in New York City, Kinnick made this comment:
 
"I thank God I was warring on the gridirons of the Midwest and not the battlefields of Europe. I can speak confidently and positively that the players of this country would much more, much rather, struggle and fight to win the Heisman Trophy than the Croix de Guerre."
 
With his love of history, Kinnick was most likely aware that Becker, Iowa's first All-American football player, was awarded the Croix de Guerre, France's highest wartime honor, two decades earlier.
 
After Kinnick's moving speech in New York, Bill Cunningham of the Boston Globe wrote: "This country's OK as long as it produces Nile Kinnicks. The football part is incidental."
 
That theme was similar to that spoken by Bill Atkinson, a leader in the Iowa legislature, when word came of Becker's death in 1918:
 
 "He was not only a typical son of our great state in the realm of physical prowess, where he excelled, but he was everything that a young man should be, morally and mentally, as well. He stood for everything that was wholesome, square, honorable, manly and American."
 
Becker died at age 22 and Kinnick at age 24. Both were remarkable young Iowans who are forever connected by their amazing lives, their Hawkeye legacies — and the year 1918.
 
Today, anyone interested in honoring the memory of these two legendary Hawkeyes can do so by visiting Becker's grave in Fairview Cemetery and by touring the USS Lexington to see the Kinnick exhibit, and stand on the very spot where his plane took off from the deck on its fatal trip, June 2, 1943.