I-Club Events Page | Hawk Talk Monthly — November | 24 Hawkeyes to Watch 2018-19 | Single Game Football Tickets | VIDEO — Sunday Conversation | Bowl Central
By DARREN MILLER
hawkeyesports.com
IOWA CITY, Iowa — On Nov. 3, the University of Iowa played a Big Ten West Division football game that featured a combined 827 yards and 74 points. A week later those totals were 639 yards and 24 points.
 
The result both weeks were heartbreaking, one-possession losses that dropped Iowa to 6-4 overall, 3-4 in the league.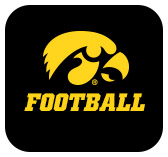 "It's interesting, it's kind of the nature of football. A week ago there were a lot of points being scored on both sides, in yesterday's game it was tough for either team to score points," Iowa head coach Kirk Ferentz said in a Sunday interview with hawkeyesports.com. "At the end of the day, Northwestern did a better job running the ball, especially in the second half. Then they took better advantage of opportunities than we did. Ultimately that put them over the top and that's why they're sitting on top of the Big Ten West."
 
The 14-10 loss to the Wildcats marked the fifth time this season that Iowa's defense held an opponent to 14 or fewer points. It was the third time an opponent was held to one trip or less in the red zone.
 
In the first half, Iowa held Northwestern to 34 rushing yards on 17 carries. In the second half, Northwestern ran for 150 yards on 29 carries.
 
The Wildcats were 9-of-21 on third or fourth down; Iowa was 3-of-14.
 
"The third-down, fourth-down success rate impacted us and they did a better job of taking advantage of opportunities. We missed some opportunities that might have been able to impact the game," Ferentz said. "Those are the things we're going to have to figure out how to do better and try to minimize some of those kind of plays so we can do better in the next two weeks."
 
Ferentz will rely on strong senior leadership to help the Hawkeyes get off the mat after three consecutive losses by a total of 12 points.
 
"We have a bunch of guys really invested and they have to help in the cause of trying to educate the younger guys so we can move this think along a little faster and get back in the winning column," Ferentz said. "That will be our sole goal this week."
 
With two games left in the regular season, Ferentz said the team will work smarter, not longer.
 
"We will keep working to make little improvements, hoping they will carry over to the ball game," he said.
 
Up next for the Hawkeyes is Illinois (4-6, 2-5), a team that has averaged 41 points in its last three games. The last time Illinois played at home, the Illini defeated Minnesota, 55-31.