IOWA CITY, Iowa — University of Iowa tight ends Noah Fant and T.J. Hockenson are two of eight semifinalists for the John Mackey Award, presented annually to the top tight end in the nation. The announcement was made Thursday by the John Mackey Award.
 
The John Mackey Award winner will be announced Dec. 5 and presented Dec. 6 at the Home Depot College Football Awards Red Carpet Show on ESPNU.  Finalists for the award will be announced Nov. 22. Iowa's Dallas Clark received the John Mackey Award in 2002, while Tony Moeaki (2009) and Allen Reisner (2010) were semifinalists.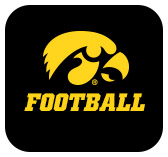 Fant (6-foot-5, 241 pounds) is a junior from Omaha, Nebraska (Omaha South High School), while Hockenson (6-5, 250) is a redshirt sophomore from Chariton, Iowa (Chariton High School). The Two Hawkeyes shared Mackey Award Player of the Week honors for their play in Iowa's 42-16 win at Indiana.
 
Hockenson leads Iowa with 39 receptions for 615 yards and four touchdowns; he also has one rushing touchdown.  Fant leads the Hawkeyes with six touchdown receptions and for the season has 35 receptions for 453 yards. Hockenson is averaging 15.8 yards per catch and Fant 12.9 yards.
 
Fant has 18 career touchdown receptions ranking fourth all-time at Iowa and first among Hawkeye tight ends. He ranks third all-time among Big Ten Conference tight ends. Fant led the nation's tight ends a year ago in scoring receptions (11) and average per catch (16.5).
 
Fant and Hockenson each had more than 100 receiving yards in the win at Indiana, becoming the first Hawkeyes to surpass 100 receiving yards in the same game since 2011 (wide receivers Keenan Davis and Marvin McNutt versus Pitt). Hockenson has surpassed 100 receiving yards twice in 2018 (125 versus Wisconsin), while Fant had 116 receiving yards in a 2017 win at Nebraska.
 
The Hawkeyes (6-4, 3-4) travel to Illinois (4-6, 2-5) Saturday (2:40 p.m., BTN).