24 Hawkeyes to Watch 2018-19 | Hawk Talk Monthly – November | Hawkeye Fan Shop — A Black & Gold Store | Box Score (PDF) | Boxscore
BLOOMINGTON, Ind. — Despite career days from redshirt junior Meghan Buzzerio and freshman Hannah Clayton, the University of Iowa volleyball team (14-14, 6-11 Big Ten) fell to the Indiana Hoosiers (16-12, 7-10 Big Ten) in five sets on Friday night.
Buzzerio set new career-highs with 22 kills on 58 attempts, while Clayton's 10 total blocks are a career-high and rank 10th all-time. Sophomore Brie Orr added 46 assists and senior Molly Kelly had 23 digs.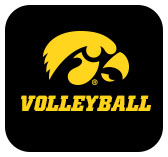 HOW IT HAPPENED
SET 1 (17-25) | Indiana opened the match with the upper hand, taking a 5-10 lead over Iowa. The Hawkeyes started making moves with a run by senior Taylor Louis and redshirt junior Meghan Buzzerio to cut Indiana's lead to 16-13 as the Hoosiers called a timeout. Indiana came out of the timeout with a 6-1 run, giving the Hawkeyes little margin for error. Iowa showed signs of life with kills by Buzzerio and freshman Hannah Clayton, but Indiana proved to be too much in the first.
SET 2 (22-25) | Iowa had another slow start in the second set, allowing Indiana to open a 5-1 lead before the Hawkeyes responded. Iowa's offense came back with a run of its own and a service ace by junior Emily Bushman tied the game at 12. But another run by Indiana gave the Hoosiers breathing room as the Hawkeyes looked to steal the second set. A block by freshman Amiya Jones and attack error on Indiana allowed Iowa to tie the set at 22. However, Indiana responded with a kill and back-to-back aces to close out the second.
SET 3 (25-19) | With their backs against the wall, Iowa came out strong in the third set. With the score tied at eight, the Hawkeyes opened up a 6-0 run forcing Indiana to burn both of its timeouts. The Hoosiers fought back to tie the game at 16, but a net violation on the next point stifled any chance of a comeback as the Hawkeyes never looked back, taking their first set of the evening.
SET 4 (25-22) | Buzzerio continued to take control as the match kept stretching longer. Buzzerio's four-point run with two kills and two aces gave Iowa a 10-5 lead over Indiana and forced the Hoosiers to call a timeout. Iowa kept its distance from Indiana, leading by at least two or three points for the majority of the set. Iowa took a 23-20 lead as Indiana called its final timeout. Following the timeout, Indiana brought the score within one at 23-22, but Iowa finished the set with a kill from Louis and block from Orr and Clayton.
SET 5 (15-8) | In Iowa's seventh five-set match of the season, the Hawkeyes fell behind early, calling a timeout down 2-6. Indiana was the first to eight points but the Hawkeyes came back to bring the score to 7-8, but Indiana stifled Iowa's offense as the Hoosiers took the final set and match.
UP NEXT
The Hawkeyes make the quick trip to West Lafayette for their final Big Ten road match of the regular season. First serve is set for 7 p.m. (CT). Live results will be available on hawkeyesports.com/vblive. Live audio of the match are available on Hawkeye All-Access.