Hawk Talk Monthly — November | 24 Hawkeyes to Watch 2018-19 | I-Club Events Page | Single Game Football Tickets
By HANNAH OSSMAN
hawkeyesports.com
IOWA CITY, Iowa — Shane Viilo is in his first season as a University of Iowa football graduate assistant with the linebackers, but has been with the Hawkeyes as a student assistant for the past three years.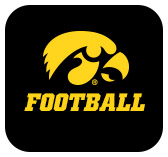 Viilo transferred to Iowa from Central Michigan University, where he was an undergraduate student, after learning there was an open position with the Hawkeyes.
 
"My friend, who was working here as a [graduate assistant], approached me and said there was going to be an opening at the undergraduate position and thought I might be interested," Viilo said. "I was able to come out here and interview with Coach [Phil] Parker. I worked as an undergraduate assistant for three years and this is my first season as a GA."
 
Since coming to Iowa, Viilo has worked exclusively with linebackers and is getting as much out of the experience as the players he coaches.
"We have a lot of guys that are fun to work with every day," Viilo said. "They bring a lot of energy and help me get better. I teach them and learn a lot from them."
 
Leading the linebacker group this season is senior Jack Hockaday. In nine games, Hockaday has recorded 51 tackles, 3.5 tackles for loss, two pass breakups and one fumble recovery.  
 
"Working with the linebackers in practice, they're an interesting group," Viilo said. "We only have one senior with Jack Hockaday, and he brings a lot of leadership."
 
Redshirt freshman Djimon Colbert, sophomore Nick Niemann, and juniors Kristian Welch and Amani Jones have added 151 tackles to the unit's collective 206 tackles.
 
Welch has tallied 1.5 tackles for loss, a pass breakup, an interception, and a forced fumble with a fumble recovery. Colbert added 1.5 tackles for loss and a pass breakup, Niemann has 2.5 tackles for loss including a sack, and Jones has 2 tackles for loss including a sack.
 
"We have a lot of younger guys that didn't have a lot of experience coming into this season, but we've had a lot of different lineups due to injuries, guys playing different positions, and they've all responded very well," Villo said. "Everybody has been ready to go every game. There's been a lot of 'next man in' throughout the season."
 
The Hawkeyes take on Nebraska for senior day at Kinnick Stadium on Friday. Kickoff is 11:05 a.m. (CT) and will air on FOX or can be streamed live on FOXSPORTSGO.com.