Hawk Talk Monthly — November | Hawkeye Fan Shop — A Black & Gold Store | 24 Hawkeyes to Watch 2018-19 | Hawk Talk Daily links
By DARREN MILLER
hawkeyesports.com
IOWA CITY, Iowa — The University of Iowa women's basketball team averages 100 points per game, second-most in NCAA Division I. Even though the Hawkeyes are currently well ahead of the school scoring record of 79.5 set in 2014-15, racking up points isn't an emphasis.
 
"Honestly, they don't need a goal," Iowa head coach Lisa Bluder said Monday on a teleconference. "They are pretty driven and offensive-minded."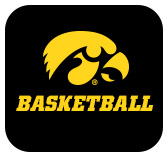 The undefeated and 12th ranked Hawkeyes have lit up the scoreboard with 90 points against Oral Roberts, 104 at Western Kentucky, and 106 against North Carolina Central.
 
Now the competition stiffens.
 
Iowa opens play Friday at the Junkanoo Jam in Bimini, Bahamas, against No. 25 West Virginia (3-0). On the other side of the four-team Bimini Division bracket are Florida State (4-1) and Eastern Kentucky (0-3).
 
"We will find out what we're made of in the next week," Bluder said.   
 
She hopes the discovery is similar to what the Hawkeye men's basketball team experienced at the 2K Empire Classic on Nov. 15-16. Iowa defeated No. 13 Oregon, 77-69, and claimed the championship with a 91-72 win over Connecticut in Madison Square Garden.
 
Here are a few reasons the Hawkeye women are rolling to 100 points per game: they shoot 62 percent from the field, 50 percent from 3-point, and 74 percent from the free throw line. Iowa has out-rebounded opponents by 23 and average 20 more assists per game than their opponents.
 
"I don't think we were challenged that much last week, unfortunately," Bluder said. "At the same time, it gave us an opportunity to get some younger kids in and that was good. For this early in the year, we are flowing pretty well and I'll credit that to having an experienced basketball team."
 
The quality of opposition heats up for Iowa against West Virginia. The Mountaineers have defeated Coppin State, New Jersey Institute of Technology, and Bryant, all at home, by an average of 44 points per game.
 
Five West Virginia players average in double figures, led by Tynice Martin at 20.7 points per game. Bluder describes the Mountaineers as athletic scorers who play very good on-ball and pressure defense.
 
With a win Friday, Iowa's schedule could include four Power 5 opponents in 13 days (West Virginia, Florida State, Notre Dame, Iowa State). Bluder jokingly said she is withholding that information from her team.
 
"It's an important two weeks for us," Bluder said. "The next 13 days are the brunt of our nonconference schedule. We'll take one game at a time. If I tell my players we are playing four Power 5 teams in 13 days, they might freak out. I'm just going to stick with West Virginia."
 
Bluder will keep a close eye on senior Tania Davis and her playing time in the Bahamas. The point guard averages 27 minutes per game after returning from a second ACL injury suffered less than a year ago. Bluder said she will be especially mindful of how long Davis practices leading up to the tournament.
 
"I'm not going to worry about it in the West Virginia game," Bluder said. "I'm going to use her as much as we need to win and then we'll worry about the next day on the next day. I'm going out there ready to play Tania and trying to not monitor her minutes in the game, but more so in practices leading up to it."
 
Bluder said the biggest takeaway from a 67-point win over North Carolina Central on Nov. 17 was getting playing time for the Hawkeye reserves. Sophomore Zion Sanders (19 minutes), freshman Logan Cook (18), freshman Monika Czinano (15), freshman Tomi Taiwo (15), junior Amanda Ollinger (13), and sophomore Paula Valino Ramos (seven) combined to score 42 points with 26 rebounds and five 3-point field goals.
 
Iowa and West Virginia are scheduled to tip Friday at 4:15 (CT). If the Hawkeyes win, they will play at 5:45 on Saturday; a loss and they play at 3:15.