Hawk Talk Monthly — November | I-Club Events Page | 24 Hawkeyes to Watch 2018-19 | Hawk Talk Daily links | Kid Captain: Garrett Schuster | Honorary Captain: Jason Baker | Honorary Captain: Jim Caldwell | Honorary Captain: Tom Moore | Honorary Captain: Marvin Sims, Jr. | Honorary Captain: Michael Titley | Honorary Captain: Julian Vandervelde | Bowl Central
By DARREN MILLER
hawkeyesports.com
IOWA CITY, Iowa — James Morris gave advice to the University of Iowa football student-athletes Thursday that will last beyond the Hy-Vee Heroes Game with Nebraska.
 
Morris, the earliest football commitment in Iowa history, is the final honorary captain of the 2018 season. He gave a verbal pledge to become a Hawkeye in December of 2007, when he was a sophomore at Solon (Iowa) High School. The three-sport standout for the Spartans was named the state's Gatorade Player of the Year in 2008 and 2009.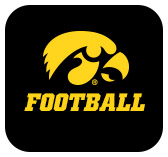 At Iowa, Morris lettered from 2010-13. He was a two-time team captain (2012-13), three-time Academic All-Big Ten (2011-13), and finished seventh on the Hawkeye career tackle list with 400.
 
On Thanksgiving Day, Morris told the Hawkeyes that every play is an opportunity, football will not last forever, and closed by reminding them they are much more than football players. In between, Morris weaved in his own life experiences.
 
"If I had a nickel for every time I met somebody that said, 'Your're a great player, you're going to play in the NFL a long time,'" Morris said. "I had NFL coaches tell me that. Life happens, you get hurt, coaches changes, it's not forever. You don't know when your last play is going to be. You have to continue to prepare to develop and grow, because at some point you're going do something else, so you have to be ready."
 
In 2013, Morris led Iowa with 18 tackles for loss, eight sacks, and four interceptions. That season he was named National Football Foundation Scholar-Athlete and a finalist to the Lott IMPACT Trophy (honoring character and defensive performance), Wuerrfel Trophy (community service), and Draddy Award/Campbell Trophy (performance, academics, community leadership).
 
With Morris at middle linebacker, the Hawkeyes won 27 games and were .500 or above in Big Ten play in three of four seasons. Iowa also played in three bowl games with Morris as a starter, winning the 2010 Insight Bowl over No. 12 Missouri, 27-24.
 
"The difference between average teams at Iowa and good teams at Iowa is they understand it's the little decisions that matter," Morris said.
 
Morris signed with the New England Patriots as an undrafted free agent in 2014, winning a Super Bowl with the Patriots. He also played for the New York Giants and Dallas Cowboys.
 
"The one think I distilled from all that is being a Hawkeye means doing your dead-level best with whatever it is you have," Morris said. "We might not have the best, but we're going to do our best. I tried to do that every day when I was at Iowa. That's what I was getting from my coaches and parents, so I have tried to do that moving forward in life."
 
The Hy-Vee Heroes Game began in 2011, when Morris was a sophomore. The Hawkeyes won, 38-17, when Morris was a senior in 2013.
 
"For us, it was a bit of novelty when it first started," Morris said. "While the two colleges didn't have a lot of history (in football), the two states did and there is competition there. We share a boarder and a lot of Iowa residents are Nebraska fans and a lot of Nebraska residents are Iowa fans. That permeates in the work place and everyday life. It makes for fun water cooler talk."
 
But the message Morris delivered Thursday was intended to have a longer shelf life than 24 hours.
 
"Be it Nebraska or anybody, my thought was to give them something they could have perspective on and they could tap into even beyond this week," Morris said. "Rivalry games are important, guys get fired up for rivalry games. But they are trying to win every game, so you have your toolbox you are going to every week so I was trying to give them one more thing in their tool box that could help them."
 
Morris lives in Des Moines, Iowa, with his wife, Taylor. He is an investment analyst for Principal Financial Group, working on a real estate investment team that covers New York, Boston, and New Jersey.