24 Hawkeyes to Watch 2018-19 | I-Club Events Page | Hawk Talk Monthly — November | Hawk Talk Daily links | Honorary Captain: James Morris | Kirk Ferentz News Conference Transcript | Game Recap | Photos | Stats
By DARREN MILLER
hawkeyesports.com
IOWA CITY, Iowa — How's that for a decade of late-game excitement?
 
Daniel Murray had Penn State in 2008. Marshall Koehn had Pittsburgh in 2015. Keith Duncan had Michigan in 2016.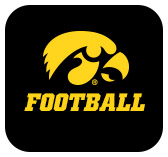 Make room for Miguel Recinos against Nebraska in 2018.
 
Recinos, a 6-foot-1, 193-pound senior from Mason City, Iowa, kicked a 41-yard field goal as time expired, allowing the University of Iowa (8-4 overall, 5-4 Big Ten) to defeat the Cornhuskers, 31-28, on Friday in the Hy-Vee Heroes Game.
 
It adds to a list of recent fourth-quarter heart-stoppers that have sent Iowa to victory. Murray's 31-yard field goal with one second to play lifted the Hawkeyes to a 24-23 win over Penn State in 2008. Koehn's 57-yarder as time expired gave Iowa a 27-24 win over Pittsburgh in 2015. Duncan's 33-yarder as time expired boosted the Hawkeyes to a 14-13 win over Michigan in 2016.
 
For Recinos, he has made more difficult field goals (think frozen Yankee Stadium turf), but none bigger.
 
"I wouldn't say it was the hardest kick of my career, but I would say it's the most important because it directly decided the game," Recinos said. "Even if I would play in the pros, nothing would top that 38-yarder in the (2017) Pinstripe Bowl. It was like they told you to kick a ball while you were ice skating."
 
Recinos heads into his final bowl appearance having made 15-of-20 field goals with a long of 49. His first miss of the Big Ten season came from 38 yards against Northwestern…in Kinnick Stadium. His second came from 37 yards with 7:54 to play Friday…in Kinnick Stadium.
 
"I would never say this to coach (Kirk) Ferentz, but I seem to be better after I miss one," Recinos said. "After I missed that one, I got into a frame of mind where it is easier for me to block everything out because I get angry. For me, that anger is positive."
 
Making the miss more disappointing to Recinos is the fact he thought it was a success. He struck it well, but the ball didn't behave the way Recinos thought it would and stayed wide right.
 
Iowa led 28-20 at the time and as he made the lonely jog back to the sideline, Recinos began to play clairvoyant. He could have spared Hawkeye fans a lot of anxiety because his entire batch of predictions played out.
 
"I remember telling myself in my head, Nebraska is going to go down and score and they are going to get the two-point (conversion)," Recinos said. "We are going to drive the ball down and it is probably going to be a medium to long kick, and (Nebraska head coach Scott) Frost is going to call a timeout."
 
Then, Recinos added…
 
"I am going to hit it to win it."
 
He couldn't have scripted a better Senior Day exit from Kinnick Stadium, but even then, he needed to pause briefly to assure the moist ball actually sailed through the north end zone uprights.
 
"I knew I hit it well, but because of what happened with the last one, I didn't want to count my chickens before they hatched," Recinos said. "I saw it was going to stay on target, so that's when I realized it was going to go through. Then your instincts take over at that point."
 
Before instincts took over, Recinos flashed back to conversations he had with Duncan about the aftermath of the Michigan game-winner two seasons ago at the opposite end of the field.
 
Don't slide.
 
"I started to celebrate, then it occurred to me, I probably want to keep running around because I remember Keith telling me the horror stories of being on the bottom of the pile," Recinos said. "He did give me that advice — after you make it, don't slide, so I tried to run around."
 
The game-winning kick could put the Hawkeyes in the running toward the west coast this postseason. Wherever Iowa ends up, it's safe to say Recinos won't be kicking on an ice rink.