Hawk Talk Daily links | Hawk Talk Monthly — November | I-Club Events Page | Honorary Captain: James Morris | Kirk Ferentz News Conference Transcript | 24 Hawkeyes to Watch 2018-19 | Seniors Look for Husker Sweep | Game Notes
By DARREN MILLER
hawkeyesports.com
IOWA CITY, Iowa — Quarterback Nate Stanley became more passionate about the game of football by observing his teammates Nick Easley and Keegan Render.
 
Defensive end Anthony Nelson has been impacted by Sam Brincks, Matt Nelson, and Parker Hesse, the three other starters on the University of Iowa's defensive line.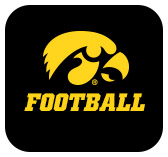 For Stanley and Anthony Nelson, Friday's Hy-Vee Heroes Game against Nebraska is their final game in Kinnick Stadium for the 2018 season. For Easley, Render, Brincks, Matt Nelson, and Hesse — along with nine other Hawkeyes — it will be their final game in Kinnick Stadium ever.
 
Stanley and Anthony Nelson — both juniors — aren't alone in putting an emphasis on sending Iowa's seniors out with a win.
 
"The first thing I think about is all the seniors on the team," Anthony Nelson said. "We have to send those guys out, it's their last game in Kinnick. Those guys have meant a lot to the program and I think our goal should be to send those guys out with a win in Kinnick."
 
Nelson is second on the team with 7 ½ sacks, nine tackles for loss, and four quarterback hurries. He will tell you that those numbers also reflect what Hesse, Nelson, and Brincks are doing to his right side.
 
"Those guys had a big impact on my career and they had a big impact on my life in the past four years," Anthony Nelson said. "I have been grateful for that and I want to do whatever I can to make sure they have the best senior year possible."
 
Render is the starting center and Easley is Iowa's second-leading receiver. It is easy to see how they could positively impact a quarterback.
 
"I have spent a lot of time with them and both those guys showed me their true passion for the sport," Stanley said. "Not only the work ethic they have toward everything, but they showed me how to be a good teammate and make the passion I have deeper and stronger for the game."
 
The other seniors being recognized Friday are offensive lineman Dalton Ferguson, safety Jake Gervase, wide receiver Kyle Groeneweg, linebacker Jack Hockaday, fullback Austin Kelly, linebacker Aaron Mends, offensive lineman Jake Newborg, kicker Miguel Recinos, and offensive lineman Ross Reynolds.
 
"Every one of these guys has brought good things to our football team," Iowa head coach Kirk Ferentz said. "It's always interesting, every guy has a different story. Some guys' careers go just as you hope. Other guys face injuries or different challenges. It's a wide range every year, but the common denominator with all 14 of these players, they've all been great team members, they've all brought strong leadership to our football team, and especially when we're going through difficult times. That's when it really counts."
The seniors also made their presence felt quickly to many of the younger Hawkeyes. Running back Mekhi Sargent is in his first season at Iowa and leads the team with 575 rushing yards and eight touchdowns. This will be his first experience with the Hy-Vee Heroes Game and playing against Iowa's rival to the west.
 
"Some of those guys have been here five years and it is important for them to go out with a win, especially against a good team like Nebraska and a trophy game," Sargent said. "It's important for us to send them out on a good note."
 
Redshirt freshman Djimon Colbert has ascended to a starting position at weakside linebacker. His "locker buddy" is Gervase.
 
"Jake is one of my best friends on the team," Colbert said. "All the wisdom the seniors have given us about how to operate in this program and how to treat others — just stuff older guys teach younger guys has been big for us. To send them off with a good feeling is a mission for the whole team."
 
There is another task Friday, regardless of the opponent.
 
"Win No. 8 is important to us," Anthony Nelson said. "Seven-and-five looks a lot worse than 8-4. We're going to do whatever we can to get win No. 8 — that's enough motivation for us."
 
Iowa (7-4 overall, 4-4 Big Ten) and Nebraska (4-7, 3-5) kickoff Friday at 11:05 a.m. (CT). The game will be televised by FOX, with Brian Custer and Ben Leber on the call.