Hawk Talk Monthly — November | 24 Hawkeyes to Watch | Hawkeye Fan Shop — A Black & Gold Store | Hawk Talk Daily
By JACK ROSSI
hawkeyesports.com
 
IOWA CITY, Iowa — This weekend three University of Iowa volleyball student-athletes — Molly Kelly, Taylor Louis, and Reghan Coyle — will compete for the final time in a Hawkeye uniform hoping to leave a lasting impression on their teammates, university, and a rapidly developing program.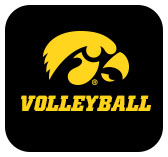 Kelly and Coyle are homegrown Hawkeyes, hailing from West Liberty and Council Bluffs, respectively.
Louis, a native of Evanston, Illinois, came to Iowa following her sophomore year and immediately bought into the Hawkeye way.
 
"(UI head coach) Bond (Shymansky) recruited me at Marquette before he came to Iowa," Louis said. "So I knew his philosophies and tendencies already. I also played with some girls at Marquette who were coached by him, so the transition was easy."
 
The trio of seniors have helped rejuvenate the Iowa program. While Louis transferred to Iowa with a reputation that preceded her, Kelly and Coyle turned themselves into starters, scholarship players, and team captains.
 
Together, the trio helped erase decade-long droughts and put Iowa in a position it hasn't been in since before they were born.
 
"The biggest change is the belief of who we are as a team and what we can do in the Big Ten," Coyle said. "When we were freshmen, I would not believe you if you told me we would beat Wisconsin."
 
During their senior season, the Hawkeyes defeated Iowa State in Ames for the first time since 1997 and downed sixth-ranked Wisconsin for its highest ranked win in more than 20 years. It was the first victory over the Badgers since 2009.
 
With two wins this weekend Iowa will reach its third consecutive winning season, the team's longest streak since posting five straight winning campaigns from 1986-90.
 
With graduation on the horizon, each Hawkeye will go their separate ways with Kelly hoping to teach English in Mexico, Coyle continuing pharmacy school, and Louis looking to play professionally overseas. Each will take with them memories and lessons learned at Iowa.
 
"I've learned that there is strength in knowing your vulnerabilities," Louis said. "If you need help going somewhere or doing something, there is nothing wrong with asking for help."
 
While each will take something special with them, Louis, Coyle, and Kelly hope to leave something behind for their teammates.
 
"I hope they remember us as great teammates and then as key players that helped change the program," Kelly said.
 
"I hope we are remembered by being teammates that you can talk to no matter what and having a great attitude on and off the court," Coyle said.
 
"I want this class to be remember as the class that always had open arms," Louis added.
 
Coyle, Louis, and Kelly lead the Hawkeyes against Maryland on Friday before hosting Ohio State on Senior Night on Saturday. Both matches are slated for a 7 p.m. (CT) first serve. Tickets for both matches are available on hawkeyesports.com/tickets or over the phone at 800-IA-HAWKS.