24 Hawkeyes to Watch 2018-19 | I-Club Events Page | Hawk Talk Monthly — November | Hawk Talk Daily links | Honorary Captain: James Morris | Kirk Ferentz News Conference Transcript | Game Recap | Photos | Stats | Recinos Resets to Hit Game-Winner
By DARREN MILLER
hawkeyesports.com
IOWA CITY, Iowa — University of Iowa head coach Kirk Ferentz talks frequently about there being a handful of plays that impact every football game.
 
In Friday's Hy-Vee Heroes Game, none was bigger than T.J. Hockenson's 10-yard reception on fourth-and-8 from Nebraska's 37-yard line with 42 seconds left in a tie game. Not only did the Hawkeyes move the chains, but two snaps later, kicker Miguel Recinos sent a 41-yard game-winning field goal through the north end zone uprights for a 31-28 victory.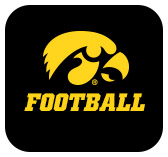 For Iowa, this play was much more than an 'Oh well, if we don't convert we still have overtime' situation. On Nebraska's previous drive, the Cornhuskers chewed up 13, 15, and 18 yards a crack. They had scored 15 consecutive points. Giving Nebraska the ball back 13 yards from midfield — regardless of how much time remained — could have been disastrous.
 
"It shows the coaches have a lot of confidence in us," Iowa quarterback Nate Stanley said. "It shows we prepared well and we have executed in practice to give them that confidence."
 
Stanley had just one completion on the nine-play game-winning drive. But they don't get much bigger than that one completion to Hockenson, who led the team with five receptions for 54 yards.
 
If Nebraska didn't line up in the exact defense the Hawkeyes wanted, Iowa head coach Kirk Ferentz said the Hawkeyes would have punted and taken a chance in overtime.
 
Instead, they took a chance on the strong right hand of Stanley, the sure hands of Hockenson, and the precise right foot of Recinos.
 
"It was a play we have run quite a bit in practice," Stanley said. "We knew we had that play dialed up for that down, distance, and situation. We knew (Nebraska) liked to bring pressure in that situation, so we tried to max our protection and give (Hockenson) an opportunity to win."
 
Hockenson is usually the first option on the play, which the Hawkeyes run over, and over, and over in practices. The route depth is 10 yards, but just to be safe, Hockenson added another yard to the pattern.
 
"I tried to break it to 11 (yards)," Hockenson said. "I knew the guy (safety Antonio Reed) was on my back, so I wanted to make sure I was breaking it at 11 instead of at 10 just in case. I wanted to make sure I had the first down."
 
Stanley's pass was on the money. "He put a strike on it," Hockenson said.
 
There were 144 plays run during the most recent Hy-Vee Heroes Game. Stanley-to-Hockenson was perhaps the biggest.
 
"We had a play we felt good about, which is what we ran," Ferentz said. "It matched up and like everything else, it gets down to execution. Our players did a great job blocking the blitz, T.J. got open, and Nate gave him a great ball and that was it."
 
Nebraska head coach Scott Frost called Iowa's fourth-and-8 play "gutsy."
"I figured they were punting," Frost said. "I give coach Ferentz credit. We gave a little too much ground in one spot. It was a great play by them."
 
Ferentz explained the precision and detail that goes into running a play like that in general, let alone with the result of a rivalry game in the balance.
 
"That is the difference between winning and losing," Ferentz said.
 
On this cool and wet day, the result for Iowa was a very big win.