24 Hawkeyes to Watch 2018-19 | Hawk Talk Monthly — November | Box Score (PDF) | Boxscore
By JACK ROSSI
hawkeyesports.com
IOWA CITY, Iowa — The University of Iowa volleyball team fell to the Maryland Terrapins, 3-2, on Friday night inside Carver-Hawkeye Arena.
Junior Meghan Buzzerio set a new career-high with 23 kills, senior Molly Kelly notched her own career-high with 34 digs, and sophomore Brie Orr added 53 assists.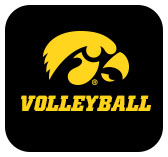 HOW IT HAPPENED
SET 1 (22-25) | The Hawkeyes dug themselves a hole in the first set, falling 3-8 before marching back to tie the set at 14 following an ace by junior Emily Bushman. Iowa grabbed its first lead of the set at 15-14, but it didn't last after a kill by Maryland and error by Iowa handed the Terrapins a lead the Iowa would not catch up to.
SET 2 (25-22) | The Hawkeyes flipped the script in the second set, getting out to a 12-8 lead when Maryland called its first timeout. Out of the timeout, Maryland went on a 4-0 run, forcing Iowa to call its own timeout with a one point advantage, 16-15. Maryland tied the set against at 20 after a kill, but the Hawkeyes responded with a kill from senior Taylor Louis to take the second set and even the score at one set apiece.
SET 3 (20-25) | Maryland jumped out to an early lead in the third at 4-9. Iowa called the timeout and brought the score within three points thanks to three consecutive kills by senior Reghan Coyle. Maryland responded with a run of its own and took a 15-21 lead going into Iowa's final timeout of the set. Out of the timeout, Louis recorded a kill and back-to-back blocks to bring the Hawkeyes within three at 23-20, but Maryland added a kill and a block to seal the third set.
SET 4 (25-16) | Iowa had the momentum in the fourth set after opening to a score of 9-5. After a couple Maryland timeouts, the Terrapins made a run with two straight kills, eventually bringing the score to 14-9. Iowa responded with two quick kills by Buzzerio and two blocks from freshman Amiya Jones and Coyle. Iowa cruised to 20 points, but Maryland continued to threaten only down five points, but a kill from Louis and an ace by Orr clinched the fourth set.
SET 5 (14-16) | Iowa and Maryland both fought back and forth in the deciding set. Neither team could gather momentum until an attack error by Maryland and ace by Buzzerio gave the Hawkeyes some breathing room as Maryland used a timeout with the score 6-4. Iowa held a steady lead until a couple Maryland kills and Iowa attack error tied the score at 12, forcing Iowa to call a timeout. Out of the timeout, Iowa and Maryland traded points with Coyle and Buzzerio notching kills, but an attack error by Iowa was the final blow and the Hawkeyes dropped the set and match.
NOTABLES
Iowa played in its ninth five-set match of the season and third consecutive. The last time Iowa played in three straight five-set matches was in 2012 against Oakland, Syracuse, and Iowa State.
Senior Molly Kelly set a career-high with 34 digs – the fifth highest single-game total in program history.
Senior Taylor Louis tied a career-high with 5 total blocks.
Junior Meghan Buzzerio set a new career-high with 23 kills.
UP NEXT
The Hawkeyes conclude the regular season against Ohio State at 7 p.m. (CT) inside Carver-Hawkeye Arena. Saturday's match will serve as senior night. Tickets for the match are available at hawkeyesports.com/tickets.