24 Hawkeyes to Watch 2018-19 | Hawk Talk Monthly — November | Hawk Talk Daily | Hawkeye Fan Shop — A Black & Gold Store – https://hawkeyefanshop.com/?utm_source=HawkeyeSports&utm_medium=HawkeyeSports&utm_campaign=HawkeyeSports
IOWA CITY, Iowa — University of Iowa junior Natalie Winters has been named a third-team United Soccer Coaches All-North Region honoree, it was announced Tuesday by the organization. It is the first all-region honor of Winters' career and she is the first Hawkeye to earn all-region recognition since 2014.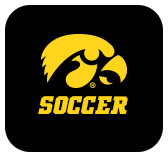 The Plymouth, Michigan, native started 17 games in 2018, where she garnered third-team All-Big Ten honors.  The midfielder played 1,452 minutes where she led the team with five goals and 13 points, while tying for the team lead with three assists.  She also had team-highs in shots (49) and shots on goal (21).
 
Winters recorded her first career multi-goal game Aug. 31, scoring two goals in a victory over Central Michigan.
 
Winters is Iowa's first all-region honoree since 2014 when Cloe Lacasse and Melanie Pickert were first-team selections.
 
The Hawkeyes finished the 2018 season with eight wins and the team was unbeaten at the Iowa Soccer Complex, posting a 7-0-3 record.