Hawkeye Fan Shop — A Black & Gold Store | Hawk Talk Monthly — November | 24 Hawkeyes to Watch | Fight For Iowa
Joe Myhre is a junior on the University of Iowa swimming and diving team. Myhre currently sits ninth in the 50 free, fifth in the 100 free, eighth in the 200 free, and first on the 200-free relay, 400-free relay, and 800-free relay in the Iowa record books. He currently holds the team season best times in the 50 free (19.86) and 100 free (43.76). Both times have passed NCAA 'B' qualifying standards. 
What goals do you and the team hope to accomplish this year?
"As a team we want to be taking names at the NCAA Championships. Making ourselves known at that meet and at the Big Ten Championships is our primary goal. We improved a lot last year and scored points, but we didn't move up as much as we hoped. Now we know what it takes and what to expect. We've been at the meet before, but now it's at our home pool and we're looking to move up in the Big Ten standings.
 
"Personally, I wasn't too thrilled with my finish last year because I know I have a lot more in the tank. I was proud to be part of the NCAA relay, but I want to go for my individuals as well."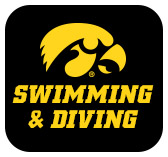 How has the freestyle depth on the team helped you train for the relays and individuals this season?
"Our team is very deep in the sprint events which helps us hold each other accountable in practice as much as possible. If we're not performing the best we'll call each other out on it. In the end, we're open with each other about problems, but on the other side, we also encourage people when they're doing a good job."
 
How has the team transitioned from last year to this year?
"As an upper classman now, I feel that I've taken more of a leadership role. After being here for two years, it's time that I help the underclassmen adjust. I've been in their shoes before and it's hard at times. Being an upperclassmen is a big deal for me to be there for the new swimmers."
 
What is your best advice for this year's freshmen?
"There will be a lot of highs and lows during the season, but in the end you have to keep it together. Take one day at a time and one practice at a time. Know that we're supportive of everyone and if you have problems we're here for you. Don't let the small things take over the entire season."
What is the best advice you were given by a coach?
"My club coach told me to 'slow down and don't chase time, chase change and the time will come' while I was chasing an Olympic Trials cut. That quote really stuck with me and changed the way I looked at swimming. It's easy to judge yourself by the numbers on that board, but in the end you know you're a lot more than that."
Who has been the most influential person to you since you've come to Iowa?
"Throughout my swimming career it has been Michael Phelps. He has faced a lot of adversity throughout his life and it motivates me when I see another swimmer do the things that he has done. I also like to watch Caleb Dressel from Florida."
What made you choose Iowa?
"It felt like home hands down. The second I was around the team I knew they were laid back and friendly."
How do you feel about your brother coming to swim on the team next year?
"I'm excited to see what he can do. He's a tough competitor and tough in the pool and practice. I'm looking forward to him coming here and doing what he does best."
If not swimming, what other sport would you enjoy the most?
"I like biking. I started doing it last summer and it has been a way to clear my head. If I hadn't swam I would probably be a biker."
What do you do to prepare before meets?
"Usually before my races I don't get in the pool right away. Instead I do some jumping jacks and heavy breathing."
What is your favorite place to be on campus?
"There's a lot of good places. The pool of course since I'm here a lot, but my favorite place to be is Kinnick Stadium. I really enjoy going to those games."
 
Who is your favorite person on the team to be around and why?
"Forrest White. I know that every time I have a bad practice or a bad test I can go to him and talk. He gives me good advice and he's a go-with-the-flow type person and he helps me bounce back."
Favorite movie?
"Into the Wild."
Favorite book?
"American Sniper."
Ideal superpower?
"Breathing underwater."
Favorite hobby?
"I like playing guitar and video games."