Hawkeye Fan Shop — A Black & Gold Store | Hawk Talk Monthly — November | 24 Hawkeyes to Watch | Hawk Talk Daily | Photo Gallery
By JACK ROSSI
hawkeyesports.com
 
IOWA CITY, Iowa — The outset of the University of Iowa women's gymnastics season is more than just the gymnastics. It's about standing out and connecting with fans in a unique environment.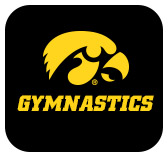 The GymHawks host their annual Black & Gold Intrasquad on Saturday at noon (CT) inside the UI Field House in what will provide new and old fans an opportunity to be part of a collegiate gymnastics meet.
 
"There are two purposes for the meet," said Iowa head coach Larissa Libby. "First, it is for the fan experience. For those people that have never seen collegiate gymnastics, we want those people to see who we have, what we do, and that it's not a sport you can be quiet. You can be involved and engaged."
 
The Intrasquad will function unlike any other meet the Hawkeyes will compete in this season. Fans will have a say in the outcome as guest judges. Having the meet inside the Field House allows the newly appointed judges to be closer to the gymnasts than ever before.
 
"I like our team to be very involved with the fans," Libby said. "This is the first step in our team engaging with those who will be with us all season. The fans will be right on top of the equipment and when we go to the floor, we will bring everybody right next to the floor so the young gymnasts in attendance can get an up-close look at their idols."
 
The second purpose of Saturday's intrasquad is a test. The unique setting provides a test and an opportunity to prove that each gymnast is ready for the season, which is less than six weeks away.
With many upperclassmen being held out in preparation for the regular season, the spotlight falls on the underclassmen to stand out.
 
"This is giving us our first look at the type of team we have and the competitive edge they are going to give us," Libby said. "It's not about making mistakes. We're looking to see who is that gamer and who folds under pressure. For the freshmen, its showing they belong and they understand what the culture of our team is when we are in a competitive situation."
 
The meet will also feature celebrity judges from around campus to help score the meet with the fans.
 
"There will be some alum that come back to judge and coaches from other sports that have volunteered their time," Libby said. "We want to give exposure to the sports that have done an excellent job during their season and may have gone unnoticed."
 
The GymHawks recognize this meet will feel different than any other gymnastics meet. That's just the way they like it.
"We are a little bit unique from other teams," Libby said. "That's why I like it, that's why we stand out, and that's why people gravitate toward us."