Hawkeye Fan Shop — A Black & Gold Store | 24 Hawkeyes to Watch 2018-19 | Bowl Central | Fight For Iowa | Photo Gallery
By JAMES ALLAN
hawkeyesports.com
IOWA CITY, Iowa — Keegan Render stepped off the University of Iowa's charter flight in December of 2016 and breathed warm, Florida air.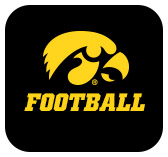 That memory was rekindled Sunday when the starting center learned that the Hawkeyes had accepted an invitation to play in the 2019 Outback Bowl. Iowa will spend its postseason in the Sunshine State for a second time in three seasons when it squares off against No. 18 Mississippi State at 11 a.m. (CT) on Jan. 1 inside Tampa's Raymond James Stadium.
 
"I love Tampa," said Render. "I am excited to get back down there. (The bowl) puts on a great show and they're great hosts."
 
This will be Iowa's sixth Outback Bowl appearance (all since 2004) and third in six seasons.  The Hawkeyes' last Outback Bowl win was in 2009 — a 31-10 victory over South Carolina.  The team lost to Louisiana State in 2014 and Florida in 2017.
 
"Tampa is a fun place to be," said senior Parker Hesse. "We had a lot of fun (in 2016). The weather is great. This year, we want to come away with the victory. That's the only way for us to upgrade from those of us who were there in 2016."
 
This year's game will be the first meeting between Iowa and Mississippi State.
 
"It's unique," said Render. "There is unfamiliarity with the team and familiarity with some of their coaches from Penn State. It will be fun to play a different opponent. It's a similar environment that we have been to before, but at the same time, it's a different team and it should be a different experience."
 
Joe Moorhead is in his first season as the Bulldogs' head coach after spending the 2016 and 2017 seasons as offensive coordinator at Penn State. Mississippi State's defensive coordinator, Bob Shoop, held the same position with the Nittany Lions from 2014-15.
 
Mississippi State went 8-4 during the regular season and 4-4 in Southeastern Conference play.  The Bulldogs have notable wins over No. 8 Auburn (23-9) and No. 16 Texas A&M (28-13).  Mississippi State lost 24-0 against top-ranked Alabama on Nov. 10 — its last loss.
 
"We know we have a big, big challenge," said Iowa head coach Kirk Ferentz. "I don't know an awful lot about them, but I know they have had an outstanding season and they are outstanding on defense."
 
The Bulldogs have the nation's top scoring defense, allowing 12 points per game.  Mississippi State is third in the country in total defense, giving up 268.4 yards per game.
 
"It's going to make us play our sharpest game," said Render. "To beat them and move the ball, we're going to have to be sharp and execute. It's a good test for us, and I think we'll be up for it."
 
Ferentz says the Outback Bowl provides the Hawkeyes a big opportunity.
 
A victory would give Iowa its second straight bowl win, its second nine-win season since 2010, and put the Hawkeyes in position to end the season in the top 25 for the first time in four seasons.
 
"If we're fortunate enough to win, that almost guarantees we'll be nationally ranked," said Ferentz. "That would be a nice cherry on top to what has already been a pretty good season."
 
It won't hurt that the Hawkeyes have their recent Outback Bowl experience to fall back on.  Mississippi State is making its first Outback Bowl appearance.
 
"A lot of guys have been there before, so we know the routine," said junior defensive back Amani Hooker. "Whenever you have a chance to play against a top program like Mississippi State, you have to come out and be ready. It's not going to be an easy game, they're a good team."
 
Tickets are on sale through the Iowa Athletics Ticket Office.  Get all the information on the Outback Bowl through Iowa's Bowl Central page at hawkeyesports.com/bowlcentral.