Hawkeye Fan Shop — A Black & Gold Store | 24 Hawkeyes to Watch 2018-19 | Hawk Talk Monthly — November | Hawk Talk Daily links
Iowa head coach Lisa Bluder opening statement: It's the Cy-Hawk Week and that's always a little bit more energy in the arena and at practice when it is the in-state rivalry games. This one is obviously very important.
 
You know, (Iowa State's) Bridget Carleton is an amazing basketball player. She is a handful to guard and she is so effective in so many ways, whether it is shooting 3s or driving or posting up. She is an all-around great basketball player and somebody we are going to have to work hard on defending.
 
Iowa State is coming off a great win against Arkansas (Sunday). They have only lost one game all year. Obviously we feel like this is a much-improved team over last year's Iowa State that we saw.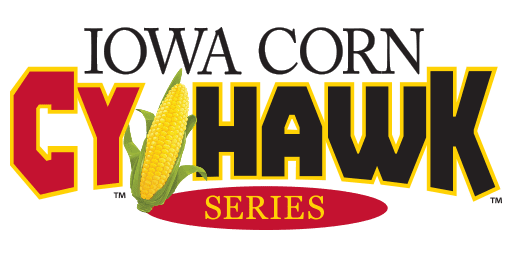 I'm excited about playing in Carver and that Megan (Gustafson) is approaching some pretty important records. In four rebounds, she will become the all-time leading rebounder at Iowa and in 23 points, she breaks 2,000 points. Some incredible milestones coming up for Megan.
 
Tania (Davis) was saying that the last time you got beat over at Hilton (in 2015) that the next day at practice wasn't much fun. She said that you get amped up for this game.
Coach Bluder: I don't even remember that to be quite honest. I can't remember what I ate for lunch yesterday, so I don't remember that practice at all. She probably does remember it. I don't, but at the same time, I think you get more excited about the in-state rivals. How could you not get juiced up about playing against the in-state rivals, especially when they're good? If they weren't good, you wouldn't care. It wouldn't be as important, but when they are good, it makes all the difference in the world.
 
When you look at them on film, they have had two big changes from the roster last year with (Ashley) Joens coming in and (Alexa) Middleton. What's the biggest difference from last year's team to this year's team?
Coach Bluder: They have a true point guard now and they have much better 3-point shooting than they had last year. Those two things make them a different basketball team. I like their backup center as well, I think she is playing really well. Kristin Scott is doing a very nice job for them as well.
 
You have gone against Carleton a number of times in this series. How do you approach attacking a player you are familiar with?
Coach Bluder: I think she has gotten better every year, so I don't think you can do exactly what you did last year and expect that to work. Keeping the ball out of her hands is important. Once she gets the ball in her hands, she is pretty darn effective. Almost everything runs through her. A lot of plays run through her, so that disrupts things if we can keep the ball out of her hands a little bit.
 
Last year you broke the streak where you won on the opponent's home court. You touched on being back in Carver, how beneficial is that in a rivalry game? What does it provide being at home?
Coach Bluder: Comfort more than anything, right? You're comfortable with your surroundings, you get to sleep in your own bed. You have your fans cheering you on instead of trying to disrupt you. Those are the main things. Both teams are too good to rely on the home court advantage, though. We make no assumptions because we are on our home court. We love that we're on our home court, but we also think both teams are really good and that negates that a little bit.
 
I think it has been 20 some years since you have won three in a row against Iowa State. What would that mean?
Coach Bluder: Wow, that's a long time. I haven't went there because all I am focusing on is this single game and not historically or anything like that. Certainly that would be good for our program, but the past is the past and we just want to go out and win on Wednesday.
 
You talked before the Notre Dame game about how this team embraces challenges through this tough nonconference stretch. The fact you didn't have to wait that long after Notre Dame for another big game, another ranked team. How nice is it for this group to get back at it and go at it against another tough opponent and not having to wait two or three weeks before something else came up on the schedule?
Coach Bluder: This is becoming reflective of our Big Ten schedule which prepares us for the Big Ten. Every game you have to be on, every game you're preparing mentally and physically as hard as you can to get ready for that next game. We're kind of in that sequence now in my opinion because we have the three in-state rivalry games left and those are all emotionally-charged just like your Big Ten season is.
 
Last summer Ashley Joens said that Iowa did not offer her a scholarship. How jacked up do you imagine her to be?
Coach Bluder: Oh, I imagine she will be pretty excited to come here, you know, back to her home town.
 
Care to expand on anything as far as recruiting or anything like that?
Coach Bluder: No.
 
Saturday in the Cy-Hawk wrestling dual, Iowa's Sam Stoll, who had been injured and had not wrestled all year, surprised the crowd and competed. Any chance we will see anything like that in the women's basketball game?
Coach Bluder: I don't know. I haven't even seen Kathleen (Doyle) today. I have no idea where we're sitting with that. I know I would like it but I just don't know..