Hawkeye Fan Shop — A Black & Gold Store | Hawk Talk Daily | Hawk Talk Monthly — November
IOWA CITY, Iowa — Seventy-one University of Iowa student-athletes have been named to the 2018 Big Ten Fall Academic All-Conference team. The list includes student-athletes from football (33), women's cross country (11), women's soccer (10), field hockey (8), men's cross country (7), and volleyball (2).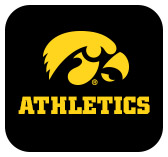 The Big Ten Conference recognized a total of 1,281 fall sports athletes. The list includes 103 field hockey players, 468 football players, 102 men's and 189 women's cross country runners, 115 men's and 209 women's soccer student-athletes and 95 volleyball players.
 
Forty honorees posted unblemished grade point averages, including Iowa's Hannah Drkulec (women's soccer), Zoey Slettehaugh (women's soccer), Isabella Solaroli (field hockey), and Karson Sommer (men's cross country).
 
To be eligible for Academic All-Big Ten selection, students must be on a varsity team, as verified by being on the official squad list as of November 1 for fall sports, who have been enrolled full time at the institution for a minimum of 12 months and carry a cumulative grade-point average of 3.0 or higher.
Below is the list of Iowa's Academic All-Big Ten honorees.
 
Men's Cross Country (7)
Name – Year – Major – Hometown
Brandon Cooley – So. – Biology – Bettendorf, Iowa
Ian Eklin – Sr. – Accounting & Finance – Plymouth, Minn.
Noah Healy -So. – Biomedical Engineering – Frankfort, Ill.
Jeff Roberts – So. – Pre-Business – River Vale, N.J.
Luke Sampson – Jr. – Public Health – Little Chute, Wis.
Karson Sommer – Jr. – Electrical Engineering and Mathematics – Bettendorf, Iowa
Daniel Soto – Sr. – Marketing & Finance – West Des Moines, Iowa
 
Women's Cross Country (11)
Name – Year – Major – Hometown
Mary Arch – So. – Art – Iowa City, Iowa
Maddie Carver – So. – Sport & Recreation Management – Urbandale, Iowa
Ashley Espinosa – Sr. – Human Physiology – Lindenhurst, Ill.
Mallory King – Jr. – Biomedical Engineering – Davenport, Iowa
Wren Renquist – So. – Biology – Okinawa City, Japan
Tia Saunders – Jr. – Human Physiology – Iowa City, Iowa
Andrea Shine – Sr. – Political Science – Crystal Lake, Ill.
Macie Weber – Sr. – Marketing and Business Analytics & Information Systems – Cascade, Iowa
Lindsay Welker – Sr. – Sport & Recreation Management – Terre Haute, Ind.
Aly Weum – So. – Pre-Business – Stoughton, Wis.
Jordan Winke – Jr. – Business – Albia, Iowa
 
Field Hockey (8)
Name – Year – Major – Hometown
Isabella Brown – Sr. – Environmental Policy & Planning – Christchurch, New Zealand
Makenna Grewe – Sr. – Human Physiology – San Diego, Calif.
Ellie Holley – So. – Pre-Physical Therapy – Bristol, United Kingdom
Riley Kniptash – Sr. – Environmental Science – St. Louis, Mo.
Ryley Miller – So. – Business Analytics & Information Systems – Edwardsville, Ill.
Maddy Murphy – So. – Environmental Engineering – Riana, Tasmania   
Isabella Solaroli – Jr. – Biomedical Engineering – Yorktown, Pa.
Leslie Speight – Jr. – Biology – Poquoson, Va.
 
Football (33)
Name – Year – Major – Hometown
Shaun Beyer – Jr. – Enterprise Leadership – Shellsburg, Iowa
Sam Brincks – Sr. – Sport & Recreation Management – Carroll, Iowa
Drew Cook – Sr. – Management & Finance – Iowa City, Iowa
Noah Feldman – So. – Industrial Engineering – West Liberty, Iowa
Jake Gervase – Sr. – Sport & Recreation Management – Davenport, Iowa
Kyle Groeneweg – Sr. – Enterprise Leadership – Inwood, Iowa
Parker Hesse – Sr. – Sport & Recreation Management – Waukon, Iowa
T.J. Hockenson – Jr. – Business – Chariton, Iowa
Garret Jansen – Sr. – Speech & Hearing Science & Religious Studies – Pella, Iowa
Mark Kallenberger – So. – Pre-Business – Bettendorf, Iowa
Austin Kelly – Sr. – Ethics & Public Policy – Hickory Hills, Ill.
Jack Koerner – So. – Business and Sport & Recreation Management – Des Moines, Iowa
Joe Ludwig – So. – History – Middleton, Wis.
John Milani – Sr. – Management – Iowa City, Iowa
Anthony Nelson – Sr. – Finance & Accounting – Urbandale, Iowa
Matt Nelson – Sr. – Human Physiology – Cedar Rapids, Iowa
Nick Niemann – Jr. – Enterprise Leadership – Sycamore, Ill.
Landan Paulsen – Sr. – Enterprise Leadership and Health & Human Physiology – Moville, Iowa
Levi Paulsen – Sr. – Enterprise Leadership & Geography – Moville, Iowa
Colten Rastetter – Sr. – Sport & Recreation Management – Guttenberg, Iowa
Miguel Recinos – Sr. – Health & Human Physiology – Mason City, Iowa
Brady Reiff – Sr. – Sport & Recreation Management – Parkston, S.D.
Brady Ross – Sr. – Finance and Management – Humboldt, Iowa
Ryan Schmidt – Sr. – Finance – Marion, Iowa
Bryce Schulte – So. – Pre-Law – Cedar Rapids, Iowa
Caleb Shudak – Jr. – Civil Engineering – Council Bluffs, Iowa
Nate Stanley – Jr. – Human Physiology – Menomonie, Wis.
Jackson Subbert – Sr. – Economics & Marketing – Willamsburg, Iowa
Drew Thomas – So. – Pre-Business – Humboldt, Iowa
Nate Vejvoda – Sr. – Mechanical Engineering – Homer Glen, Ill.   
Kristian Welch – Jr. – Enterprise Leadership and Sport & Recreation Management – Iola, Wis.
Nate Wieting – Sr. – Human Physiology – Rockford, Ill.
Toren Young – Jr. – Sport & Recreation Management – Madison, Wis.
 
Women's Soccer (10)
Name – Year – Major – Hometown
Isabella Blackman – Jr. – Management – Bettendorf, Iowa
Sydney Blitchok – Jr. – Journalism & Mass Communications and Political Science – Grandville, Mich.
Devin Burns – Jr. – Health & Human Physiology – Green Oaks, Ill.
Hannah Drkulec – Jr. – Biomedical Engineering – Windsor, Ontario, Canada
Claire Graves – Jr. – Human Physiology – Noblesville, Ind.
Kaleigh Haus – Sr. – Biomedical Engineering – Des Moines, Iowa
Morgan Kemerling – Sr. – Human Physiology – Aurora, Ill.
Rose Ripslinger – Sr. – Communications Studies – Davenport, Iowa
Zoey Slettehaugh – Jr. – Biomedical Engineering – Lenexa, Kan.
Emma Tokuyama – Jr. – Electrical Engineering – Saline, Mich.
 
Women's Volleyball (2)
Name – Year – Major – Hometown
Emily Bushman – Jr. – Finance & Marketing – Naperville, Ill.
Molly Kelly – Sr. – International Studies, Religious Studies – West Liberty, Iowa