Hawkeye Fan Shop — A Black & Gold Store | 24 Hawkeyes to Watch 2018-19 | Hawk Talk Monthly — November | Hawk Talk Daily links
By DARREN MILLER
hawkeyesports.com
IOWA CITY, Iowa — Tania Davis has seen "the look" from University of Iowa head coach Lisa Bluder and she never wants to see it again.
 
There is a surefire way to guarantee the senior point guard will not see "the look" on Dec. 5: defeat Iowa State in women's basketball at Carver-Hawkeye Arena.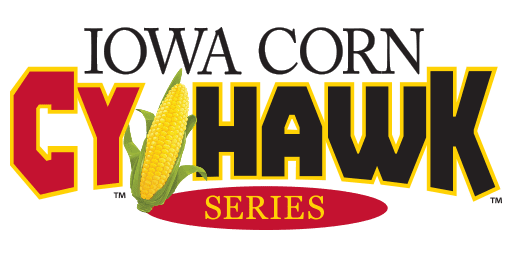 "Losing to them is not a good thing in coach Bluder's eyes," Davis said. "That look on her face the next day, I never want to see that again. It was crazy."
 
Fortunately for the Hawkeyes, there was no reason for "the look" to surface in 2016 or 2017. Iowa defeated the Cyclones at home in 2016 (88-76) and on the road in 2017 (61-55). The Hawkeyes haven't won three in a row in the series since taking 10 straight from 1982-96, when games weren't always played annually.
 
"Wow, that's a long time," Bluder said. "All I am focusing on is this single game and not historically. Certainly that would be good for our program, but the past is the past and we just want to go out and win (Dec. 5)."
 
There are three homegrown Hawkeyes on Iowa's roster: juniors Makenzie Meyer (Mason City) and Amanda Ollinger (Cedar Rapids) and freshman Logan Cook. None of them have lost in the Iowa Corn Cy-Hawk Series.
 
"This is a special game," Meyer said. "I grew up a Hawkeye fan and I loved the Cy-Hawk Series, whether it was basketball, football, or wrestling. I love these in-state rivalries. I grew up coming to the games or watching them on TV and it holds a special place in my heart. I love when it's a Hawkeye state."
 
While the other 10 on Iowa's roster are from out-of-state, senior Megan Gustafson said that when the Hawkeyes take on Iowa State, Northern Iowa, or Drake, everyone becomes a native Iowan.
 
"This week is special for everyone that goes to the University of Iowa or plays against Iowa State," Gustafson said. "It is a big in-state rivalry; we respect Iowa State's program, they have a good team, but at the same time, we want to beat them.
 
"We want to represent the state of Iowa well. We are playing for those players who are from Iowa."
 
Iowa hosts Northern Iowa on Dec. 16 and plays at Drake on Dec. 21.
 
Davis and Gustafson were both on the court in 2015 when Iowa had an 11-point lead with 6:58 left in the third quarter. Iowa State rallied for a 69-66 win and the next day, Davis said, "the look" reared its head. Davis played 16 minutes, scoring four points with two rebounds; Gustafson played 11 minutes, scoring two points with three rebounds.
 
Davis had a hot hand against the Cyclones in 2016, scoring 23 points on 7-of-11 shooting from the field and 5-of-6 from 3-point range. Gustafson scored 10 points with 13 rebounds, Meyer contributed six points in 12 minutes and the Hawkeyes prevailed at home, 88-76.
 
Last season at Hilton Coliseum, Meyer led Iowa to victory and in scoring with 18 points, making 4-of-6 from distance. Gustafson scored 16 points with 14 rebounds and Davis added three points and five assists.
 
This will be the last time Davis, Gustafson, and Hannah Stewart face Iowa State.
 
"I want to play my heart out for my teammates and coaches because we know this is an important game," Gustafson said.
 
Wednesday's Iowa Corn Cy-Hawk Series is a "Black Out" with fans encouraged to wear black. Tip-off is 7 p.m. (CT) and the game will be streamed live on BTN Plus.