IOWA CITY, Iowa — University of Iowa tight end T.J. Hockenson has been named to the 2017 Walter Camp All-America Second Team by the Walter Camp Foundation.
 
This is the fifth straight year Iowa has had a Walter Camp All-American. In three of the last five years, Iowa has had a first-team honoree. Iowa had multiple Walter Camp All-Americans in 2017 (two), 1985 (two), and 2002 (three).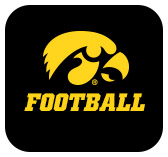 Hockenson (6-foot-5, 250 pounds) received the John Mackey Award as the top tight end in the nation Dec. 5. He received the Ozzie Newsome Award, presented by the Touchdown Club of Columbus, and was named the Kwalick-Clark Big Ten Tight End of the Year. He earned first-team All-Big Ten honors from league media the Associated Press and second-team honors (behind teammate Noah Fant) from Big Ten coaches.
 
Hockenson leads Iowa with 46 receptions for 717 yards and six receiving touchdowns. He also has one rushing touchdown. Hockenson averages 15.6 yards per catch. His career totals include 70 receptions for 1,037 yards. He is seventh among Iowa tight ends all-time with nine touchdown receptions and he has one career rushing touchdown. Hockenson has surpassed 100 receiving yards twice in 2018, with 125 yards on three receptions versus Wisconsin and four catches for 107 yards at Indiana.
 
First- and second-team Walter Camp All-Americans are recognized during the Walter Camp Foundation Awards Weekend Jan. 10-12 on the campus of Yale University in New Haven, Connecticut.
 
Iowa (8-4, 5-4) will face Mississippi State in the 2019 Outback Bowl in Tampa, Florida, on Jan. 1 (11 a.m. CT, ESPN2). For ticket and bowl game information, visit hawkeyesports.com/bowlcentral.