Hawkeye Fan Shop — A Black & Gold Store | 24 Hawkeyes to Watch 2018-19 | Hawk Talk Monthly — December | Outback Bowl Central
By JACK ROSSI
hawkeyesports.com
TAMPA, Fla. — When head coaches Kirk Ferentz and Joe Moorhead met on Thursday for the DeBartolo Welcome Party at the Outback Bowl at Raymond James Stadium, it was evident both programs arrived to Tampa on different paths.
Ferentz will wrap up his 20th season at the helm of the Iowa program, while Moorhead heads to his first bowl as head coach at Mississippi State. For both teams, this game is as big as it gets.
"We are so thrilled to get an invitation," Ferentz said. "It's a pestigious New Year's Day bowl. Everybody on our team will have a tremendous experience and that includes our fans."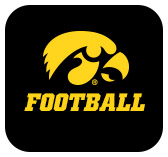 "It's our first experience here and certainly we are excited for this opportunity for our players and we appreciate the bowl committee for allowing us to be here," Moorhead added.
Iowa and Mississippi State enter the postseason with identical 8-4 records and both riding two-game win streaks. For Ferentz, this is his sixth Outback Bowl appearance and he knows what to expect.
"You are always going to play an outstanding SEC team," Ferentz said. "That's certainly what we are facing now with a tremendous Mississippi State team. Coach Moorhead has done a great job in one year. We know we have a big challenge ahead."
The Hawkeyes have always had the luxury of a dedicated fan base, where distance doesn't seem to factor into its reach. Ferentz echoed that sentiment by recalling his first interview with Iowa in 1981.
"I got to Iowa and they had 19 straight losing seasons," Ferentz said. "(Assistant coach) Barry Alvarez picked me up from the airport when I interviewed and he said we're sold out. He was not lying. What I learned was that we are the Steelers of the state. There are no pro teams. Mississippi is the same way and so all the focus is on the universities."
Mississippi State changed directions in 2018 with the hiring of Moorhead and he brings with him a unique perspective after spending the last two seasons as Penn State's offensive coordinator.
"I had the opportunity to compete against Iowa the last two years," Moorhead said. "Coach Ferentz's program is a model of consistency. They are a blue collar, hard-nosed football team. We have a year's worth of film to study and have a little familiarity from our time at Penn State. We will put all that together and come up with a game plan."
With one game left, Ferentz doesn't expect anything less than 100 percent.
"Our team was outstanding to work with this year and that goes back to January," Ferentz said. "Every game this year I thought our guys prepared well and competed hard. I can't say enough about how thrilled and excited we are to be here."
To head to Bowl Central and buy your tickets, click HERE.