Hawk Talk Monthly — December | Hawk Talk Daily links | Outback Bowl Central
 
IOWA CITY, Iowa — University of Iowa junior defensive back Amani Hooker and sophomore tight end T.J. Hockenson were named Roy J. Carver Most Valuable Players for the 2018 Hawkeye football team at its annual awards banquet Sunday. 
 
Hockenson, a native of Chariton, Iowa, recently received the John Mackey Award as the top tight end in the nation. He was named the Kwalick-Clark Big Ten Tight End of the Year and received the Ozzie Newsome Award. He was named a  Walter Camp second-team All-American. Hockenson leads Iowa in receiving with 46 receptions for 717 yards.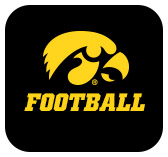 Hooker is a native of Minneapolis, who played both safety and outside linebacker throughout the season. He was named the Tatum-Woodson Big Ten Defensive Back of the Year and earned first-team honors from both league coaches and media.
 
Four team captains for the 2018 season were announced; junior quarterback Nate Stanley and senior lineman Keegan Render on offense, and senior defensive end Parker Hesse and senior defensive back Jake Gervase on defense.
 
Stanley is honored as a team captain for the second straight year, while the honor is the first for Render, Hesse, and Gervase. Render (Indianola), Hesse (Waukon), and Gervase (Davenport) are all Iowa natives. All four players have extensive starting streaks in place, including Hesse (36), Render (25), Stanley (25), and Gervase (19).
 
Stanley had led the Iowa offense to an average of 31.5 points per game. The native of Menomonie, Wisconsin, has completed 58.6 percent of his pass attempts while throwing for 2,638 yards and 23 touchdowns. His 49 touchdown passes over the past two seasons tie as the best two-year total in program history. Stanley ranks fourth in career scoring passes and ninth in career passing yards (5,137).
 
Gervase, Hesse, and Render also were honored with the Haydey Fry Award, which is presented to team members who show exemplary leadership and dedication throughout the year. All three players earned All-Big Ten recognition this season. Gervase and Hesse are members of an Iowa defense that led the nation in interceptions in 2017 and is tied for the national lead in 2018. Render has played in 51 career games.
 
Hesse was also the recipient of the Forest Evashevski Scholastic Achievement Award, presented to a senior who has the highest scholastic record, and the Iron Hawk Award. Hesse has earned Big Ten Conference and national academic recognition during his career, earning both his bachelor's and master's degrees during his Hawkeye career.
                                                                
The Reggie Roby Special Teams Award went to kicker Miguel Recinos as specialist and to wide receivers Ihmir Smith-Marsette and Kyle Groeneweg for their overall special teams play. Recinos, a senior from Mason City, Iowa, led the team in scoring with 89 points. He was successful on all 44 PATs during the season and added 15-of-20 field goals. His 41-yard field goal as time expired lifted the Hawkeyes to a 31-28 win over Nebraska in the final game of the regular season. He ranks 14th in career scoring with 171 points.
 
Smith-Marsette, a sophomore from Newark, New Jersey, received the Rodgers-Dwight Big Ten Return Specialist of the Year award. He averages 29.3 yards on kickoff returns to rank third in the nation. He earned first-team All-Big Ten honors as a specialist and honorable mention recognition as a wide receiver with 19 receptions for 332 yards and two touchdowns.
 
Groeneweg is a senior from Inwood, Iowa. He averaged 10.2 yards on 23 punt returns to lead the Big Ten, including a 61-yard touchdown at Illinois. As a receiver he had 47 yards on four receptions, while averaging 27 yards on two kickoff returns.
 
The Brett Greenwood Award was shared by Gervase, Recinos, senior defensive lineman Sam Brincks, and senior wide receiver Nick Easley. Brincks, a native of Carroll, Iowa, started all 12 games this season and has played in 50 career games. Along with his duties on defense, Brincks had a 10-yard touchdown reception at Penn State from field goal formation.
 
Easley is a native of Newton, Iowa. He recorded 44 receptions for 390 yards and three scores. Easley led Iowa with 51 receptions for 530 yards and four touchdowns in 2017, bringing his career totals to 95 receptions for 920 yards in his two seasons in the program.
 
Established in 2011, the Greenwood Award also honors former Hawkeyes who fit the description, one year at a time, for each season Kirk Ferentz has coached the Hawkeyes. Former players who were also recognized include Sam Brownlee (2004-06), Andy Fenstermaker (2005-06), Zach Gabelmann (2003-06), and Devan Moylan (2004-07).
 
Senior offensive lineman Dalton Ferguson and senior defensive tackle Matt Nelson shared Comeback Player of the Year honors. Ferguson (Solon, Iowa) missed the majority of the 2017 season due to knee surgery, before coming back to play a key role this season. Ferguson started six games at right guard and also saw action at both tackle and center as one of Iowa's most versatile offensive linemen.
 
Nelson, a Cedar Rapids, Iowa, native, battled injuries throughout his career. Nelson moved from end to tackle following his sophomore season and started Iowa's last 19 games at tackle. He was injured in Iowa's Pinstripe Bowl win over Boston College and missed the majority of off-season and spring practice. He recorded 27 tackles in 2018 while earning honorable mention All-Big Ten recognition.
 
Three Hawkeyes earned the Next Man In Award; senior linebacker Jack Hockaday (Forsyth, Illinois), senior fullback Austin Kelly (Hickory Hills, Illinois), and sophomore defensive back Geno Stone (New Castle, Pennsylvania). Stone earned the Next Man In Award for the second straight year. He started the final eight games of the season at safety, recording four interceptions to tie for second in the Big Ten. Stone had the first interception return touchdown of his career at Penn State.
                                                                                                                                             
Hockaday was not in the starting line-up in the opening game of the season, but started 10 times at middle linebacker while missing two games because of injury. Hockaday ranks third on the team with 56 tackles.
 
Kelly stepped in at fullback for the final five games when Brady Ross was sidelined because of injury. Kelly had nine rushing yards and one reception for a four-yard touchdown at Indiana for his only career score, while also contributing on special teams.
 
Coaches Appreciation Award recipients included senior guard Ross Reynolds and sophomore wide receiver Brandon Smith on offense, Hesse, Hooker and sophomore defensive end A.J. Epenesa on defense, and junior defensive back John Milani and junior linebacker Amani Jones on special teams.
 
Reynolds (Waukee, Iowa) started all 12 games at left guard. He earned second-team All-Big Ten honors from league coaches and third-team recognition from media. Epenesa is tied for first in the Big Ten with 9.5 sacks. He earned first-team All-Big Ten honors and was twice co-Defensive Player of the Week (Iowa State, Illinois). He had a fumble return touchdown in the win at Illinois.
 
Milani, from Iowa City, and Jones, a native of Chicago, played key roles on special teams. Milani recorded 10 tackles, while Jones had 22 tackles while also seeing action at middle linebacker.
 
Team Hustle Awards went to Groeneweg, Hockenson, and sophomore running back Toren Young on offense, Hesse, Matt Nelson, defensive ends Anthony Nelson and Chauncey Golston on defense, and junior defensive back Devonte Young on special teams.
 
Toren Young (Madison, Wis.) started three games at running back. He is second on the team in rushing attempts (133), rushing yards (630) and rushing touchdowns (5), while also grabbing five receptions for 26 yards and one touchdown.
 
Anthony Nelson (Waukee, Iowa) started every game at defensive end and has 25 consecutive starts. He shares the sack lead in the Big Ten with Epenesa, and was also twice named Big Ten Defensive Player of the Week (Minnesota, Nebraska). He earned second-team All-Big Ten honors and recovered a fumble for a touchdown in a win over Maryland.
 
Golston (Detroit) saw action at both end and tackle. He recorded 33 tackles in the first extensive action of his career, with nine tackles for loss, 3.5 sacks, and two recovered fumbles.
 
Devonte Young (Waldorf, Maryland), moved from wide receiver to defensive back during the course of the season, and was a key contributor on special teams. He recorded three kickoff returns for 64 yards.
 
Team Leader Awards were presented to junior quarterback Ryan Schmidt and freshman fullback Monte Pottebaum on offense, lineman Austin Schulte and linebacker Colton Dinsdale on defense, and freshman Terry Roberts and freshman linebacker Mike Timm on special teams.
 
The Player Appreciation Award was presented to Mary and Brian Lohse of Bondurant. The Lohse Family Foundation has been recognized for its generous gift to support the Kinnick Edge Campaign, Neonatal Intensive Care Unit, and Child and Adolescent Psychology. The Lohse Family has made a great tradition around Iowa football dating back to the early 1980's.
 
Their inspiration for supporting the UI Stead Family Children's Hospital is due to their personal pediatric medicine experiences and "The Wave" and its special relationship with Iowa football. Brian and Mary have also had the opportunity to impact their local and state-wide communities through their philanthropy.
The Bump Elliott Appreciation Award was presented to Chuck Hartlieb. Hartlieb is a former Hawkeye quarterback (1986-88), and is one of three Hartlieb brothers to play for the Hawkeyes. As a player he earned first-team All-Big Ten honors as a junior and senior, and earned conference and national academic honors. He served as a team captain and was a team MVP as a senior.
The 2018 Distinguished Service Award was presented to Gary Dolphin, the "Voice of the Hawkeyes" for Learfield Sports and the Iowa Hawkeye Sports Network. "Gary is not only a nationally respected broadcaster, he is a tireless ambassador for Iowa football here in our state and across the country," said head coach Kirk Ferentz. "Right after the Nebraska game, our coaches came together and unanimously selected "Dolph" as the recipient of this year's award. No one bleeds black and gold more than Gary Dolphin and this is our opportunity to say thank you."
Dolphin has twice been selected Iowa Sportscaster of the Year by the National Sports Media Association and just completed his 22nd season as the radio play-by-play announcer for Iowa football. In addition, he hosts Iowa football weekly radio and television shows and is a longtime emcee of I-Club banquets and events.
Iowa (8-4, 5-4) will face Mississippi State in the 2019 Outback Bowl in Tampa, Florida, on Jan. 1 (11 a.m. (CT), ESPN2). For ticket and bowl game information, visit hawkeyesports.com/bowlcentral.
2018 Iowa Football Award Winners
 
| | |
| --- | --- |
| Award | Player |
| Evashevski Scholastic Achievement      | Parker Hesse |
| Iron Hawk Award | Parker Hesse |
| Roy Carver Most Valuable Player  | T.J. Hockenson, offense |
| | Amani Hooker, defense |
| Permanent Team Captains | Keegan Render, offense |
| | Nate Stanley, offense |
| | Jake Gervase, defense |
| | Parker Hesse, defense |
| Hayden Fry Award | Keegan Render, offense |
| | Jake Gervase, defense |
| | Parker Hesse, defense |
| Reggie Roby Special Teams | Miguel Recinos, specialist |
| | Ihmir Smith-Marsette, overall |
| | Kyle Groeneweg, overall |
| Team Leader Award | Ryan Schmidt, offense |
| | Monte Pottebaum, offense |
| | Austin Schulte, defense |
| | Colton Dinsdale, defense |
| | Terry Roberts, special teams |
| | Mike Timm, special teams |
| Brett Greenwood Award | Nick Easley, offense |
| | Sam Brincks, defense |
| | Jake Gervase, defense |
| | Miguel Recinos, special teams |
| Former Players | Sam Brownlee |
| | Andy Fenstermaker |
| | Zach Gabelmann |
| | Devan Moylan |
| Coaches Appreciation Award | Ross Reynolds, offense |
| | Brandon Smith, offense |
| | A.J. Epenesa, defense |
| | Parker Hesse, defense |
| | Amani Hooker, defense |
| | Amani Jones, special teams |
| | John Milani, special teams |
| Comeback Player of the Year | Dalton Ferguson, offense |
| | Matt Nelson, defense |
| Team Hustle Award | Kyle Groeneweg, offense |
| | T.J. Hockenson, offense |
| | Toren Young, offense |
| | Chauncey Golston, defense |
| | Parker Hesse, defense |
| | Anthony Nelson, defense |
| | Matt Nelson, defense |
| | Devonte Young, special teams |
| Next Man In Award | Austin Kelly, offense |
| | Jack Hockaday, defense |
| | Geno Stone, defense |
| | |