Hawkeye Fan Shop — A Black & Gold Store | Hawk Talk Monthly — December | 24 Hawkeyes to Watch 2018-19 | Hawk Talk Daily
By ASHLYNN BAUER
hawkeyesports.com
IOWA CITY, Iowa — The University of Iowa women's gymnastics team has always had a focus of being successful beyond the sport.
 
Head coach Larissa Libby, who is in her 15th season at Iowa, has learned some important philosophies throughout her decade and a half in Iowa City.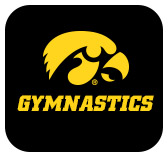 "It isn't that we don't want to win, but at the end of the day I want the experience for every kid to be amazing," Libby said. "Whatever we have to do to make sure that happens is the focus."
 
Libby has two student-athletes that are not only gymnasts, but interns within the Iowa Athletics Department.
 
Senior Sydney Hogan is working in the sports marketing department as a promotions manager.
 
"What we do is try to enhance the fan experience at events," Hogan said. "We get to work on all different sporting events. My responsibilities vary on the sporting event."
 
Junior Gina Leal works as a student information technology (IT) analyst.
 
"I pick up phone calls when other staff members need help fixing their computers, when the printers broken, or with problems within their computer," said Leal. "I can also install different applications in their computer if they don't have access."
 
Not only do Hogan and Leal get to work in the athletics department, but they get to support other student-athletes during their competitions as well.
 
"I work at various games/events and take a look at the stats, making sure everything is in order and making sure nothing is failing," Leal said.
 
"For the football games, I was in charge of the pre-game show and presentations that went out on the field. I personally worked in the pregame show with Laura Vandenberg," Hogan said. "I would communicate to her when she was on and tell the DJ when he was on."
 
These experiences would not have been possible without their connection to Libby and Iowa gymnastics.
 
"I asked (coach Libby) what I could do to get involved and she got me in touch with Kelsey Laverdiere, who is the marketing director at Iowa," said Hogan. "We met and it all came together," Hogan said.
 
Leal found her position through team videographer Chris Ruth.
 
"We were talking and he said that the IT department needed student interns," said Leal. "I was already looking for some local internships and he connected me with (senior IT support consultant) Mark Vaske. I've been working there since June."
 
The experiences are preparing them for their future careers as well.
"This job opened my eyes that I want to work more in software development rather than information technology," Lead said. "I have found that working with IT is going to help me in the future with software engineering."
 
"This field experience has let me work in something that I am passionate about," said Hogan. "It has led me to other connections with other professionals in athletics, and it has been a great opportunity for me. It is unique that I am able to work for Iowa athletics and be a student-athlete."
 
Leal, Hogan, and the Iowa women's gymnastics team open the 2019 season at Auburn on Jan. 4 at 7 p.m. (CT).