Hawkeye Fan Shop — A Black & Gold Store | 24 Hawkeyes to Watch | Fight For Iowa | Hawk Talk Monthly — November
Michal Brzus is a senior on the University of Iowa swimming and diving team. The Poland native currently sits 10th in the 100 free (43.88) and sixth in the 100 fly (47.56) in the Iowa record books.
What goals do you and the team hope to accomplish this year?
"We want to keep our mentality to work as best as we can, do our jobs, race, and do the best we can overall. We're sure that doings those things will give us great results and help us move up in the Big Ten Conference at the end.
 
"I feel that my performance last season was not very good. Now that I'm recovering from surgery, I want to get back, swim fast, and see what I can do?"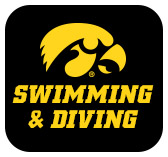 How has the team transitioned from last year to this year?
"It was pretty smooth. We lost some great athletes, but those who are still in the area show up to support us. The seniors from last year helped prepare our current seniors to be great leaders. The mentality from day one was good. Everyone was in a different place at the beginning, but we got to the point where everyone has tried their best up to now."
What has been your favorite memory surrounding the team?
"The last relay against Purdue last season when we were down and had to win the final relay. We split the relays and won the meet by a few points. That was my favorite memory until now."
What is your best advice for this year's freshmen?
"Trust the coaches, don't be scared, work hard, don't let the little things keep you down, and everything will fall into place later."
What is the best advice you were given by a coach?
"To stop overthinking everything and go for it."
Who has been the most influential person to you since you came to Iowa?
"Coach Marc Long has been influential to me because he's helped me with my personal development, not just in the pool. It will benefit me in the future."
What made you choose Iowa?
"Jerzy (Twarowski) convinced me to come when I was debating whether or not to come to America. I trusted him and it all worked out for the better."
If not swimming, what other sport would you enjoy the most?
"I love to play soccer. It's one of the Polish national sports. We haven't been good for some time but everyone plays."
What do you do to prepare before meets?
"I used to have a routine, but now I just relax and let me mind drift. I don't focus on time goals, but just doing well in any particular moment."
What is your favorite place to be on campus?
"Bread Garden."
Favorite meal?
"Anything that my mom makes for me."
Who is your favorite person on the team to be around and why?
"I don't have one favorite person because I get along with everybody. Forrest (White), Weston (Credit), Daniel (Swanepoel), Jack (Smith), and the whole group are my favorites."
Favorite Movie?
"Baby Driver. I love that movie."
Favorite Book?
"The Witcher series."
Ideal superpower?
"Teleportation."
Fictional Universe?
"Star Wars for sure."
Favorite Hobby?
"Playing Guitar."