Hawkeye Fan Shop — A Black & Gold Store | Hawk Talk Monthly — December | Hawk Talk Daily links | 24 Hawkeyes to Watch 2018-19
By BRANDEE BRITT
hawkeyesports.com
IOWA CITY, Iowa — The University of Iowa senior constantly studies film, goes over her playbook, and watches any game that happens to be on her television. She lives and breathes the sport. So imagine her pain — both physically and emotionally — when her livelihood was taken away from her for an extended period of time… twice.
 
Twenty-three games into the 2016-17 season, Davis tore her ACL in her right knee on a driving layup at Michigan. Less than a year later, she suffered the same injury in her left knee at Northern Iowa.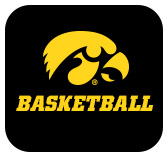 Davis battled back. She meticulously rehabbed in the training room, gained muscle in the weight room, and maintained a positive mental outlook.
 
"I had to continually surround myself with great people," Davis said. "I know a couple of times during that second ACL injury I was really down in the dumps. My friend, Lexi (Alexis Sevillian), was there every step of the way. She had to help me find some light in a very dark situation.
 
"My family, teammates, and coaches were all supportive, too. Surrounding myself with great people and focusing on the positives in the situation was key."
 
On Dec. 5, two ACL tears, two surgeries, and 31 missed games all came flooding back with 2.6 seconds remaining on the game clock against in-state rival Iowa State. There was the step-back, the shot, the swish, the win, and the thunderous roar of Carver-Hawkeye Arena.
 
Welcome back, Tania Davis.
 
"That shot… it means a lot," Davis said. "Just thinking about everything I've had to go through. All the pain, the struggles, the long hours of rehab, and working on myself before I could get back to working with the team. Seeing it pay off on that shot… I don't even know how to put it into words."
 
"I told Tania that is a shot she's going to remember for the rest of her life," head coach Lisa Bluder said. "After everything she has been through, for her to have an opportunity to have a game-winner in her senior year against Iowa State, it's pretty awesome."
 
Nine games into the 2018-19 season, the Flint, Michigan, native is averaging 11.2 points, 4.3 assists, and shooting 38 percent from 3-point range, but her contributions to the No. 16/15 Hawkeyes stretches beyond what shows up in the box score.
 
"She sees the court and understands the game so well,"Bluder said. "There is no doubt that Tania makes everybody on the team better when she's on the court. She knows when to attack, when to pull it back, when to get the ball to whom, and she's good at that."
 
With her confidence continuing to rise, Davis has her sights set on some lofty goals this season.
 
"I expect a lot of myself. I always do," Davis said. "I want to be there for my teammates in any way possible, whether that's scoring, leading, or passing the ball. But for this team, I have high expectations. We want to win a Big Ten Championship and make an extended NCAA Tournament run. That's my goal. I know it's all of ours."
 
No matter the outcome, one thing is certain — Davis is not taking a single moment for granted.
 
"Putting on the Hawkeye jersey again and actually being out there playing in front of such great fans — the greatest fans in the country in my eyes — it's honestly the best feeling ever," said Davis.