Hawkeye Fan Shop — A Black & Gold Store | Hawk Talk Monthly — December | Hawk Talk Daily links | 24 Hawkeyes to Watch 2018-19
By DARREN MILLER
hawkeyesports.com
IOWA CITY, Iowa — Relaxed and rested.
 
After playing Robert Morris, Iowa State, and Indiana University-Purdue University Indianapolis (IUPUI) in a seven-day stretch, the No. 16 University of Iowa women's basketball team has enjoyed an eight-day respite before hosting Northern Iowa on Sunday on Mediacom Court inside Carver-Hawkeye Arena.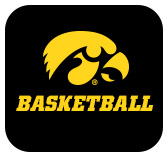 Between light workouts and final exams, the Hawkeyes were permitted plenty of time over the past week to kick their feet up and recharge their batteries as focus begins on their final home game of the 2018 calendar year.
 
"It feels so good," said senior Megan Gustafson, who completed her final final exam in clinical psychology Friday morning. "Having that balance of school and basketball is always good, but at the same time, it's nice to focus on just basketball for a while and pin down things we need to improve on. We have big games coming up — in-state rivalries and then getting ready for the Big Ten season. It's a great time to be able to focus on basketball."
 
Finals Week came at a good time for Gustafson, who was admittedly sore after a 32-point, 10-rebound performance Dec. 8 in a 72-58 win over IUPUI. In the first nine games, she averages 24.3 points and 12.3 rebounds and is shooting 75 percent from the field and 85 percent from the line.
 
"We had a stretch where we were going back-to-back-to-back games," Gustafson said. "To calm everything down a little bit, focus on improving, resting our bodies, and be able to prepare for these games is important, especially ending nonconference season and going into conference season."
 
Gustafson is second in the NCAA in field goal percentage, fourth in points per game, and tied for 10th in rebounds per game.
 
While Gustafson has been clicking along at her typical All-American pace, junior guard Kathleen Doyle is just getting warmed up. Doyle returned from broken bones in her left hand to contribute in Hawkeye wins against Iowa State (Dec. 5) and IUPUI (Dec. 8).
 
Doyle scored 22 points in 29 minutes against Iowa State, then turned around three days later to score seven points with four steals in 31 minutes against IUPUI.
 
"That Iowa State game was more like survive and advance quarter-by-quarter," said Doyle, referencing her first-game conditioning. "My adrenaline definitely got me through that game. Since then, I have gotten extra conditioning and I feel my legs are coming back."
 
Like Gustafson, Doyle let out a long and loud sigh when asked about the end of the fall academic semester.
 
"It is the best feeling," she said. "You go through the whole semester with the same class and you're excited for a fresh start. Now you get to relax and focus on basketball."
 
Iowa (7-2) puts its three-game winning streak on the line against Northern Iowa. It is the second of three games against in-state competition for the Hawkeyes, who wrap up the nonconference slate at Drake on Dec. 21.
 
"Having this week, even though they were spending time studying for finals and having the stress of finals, it still feels like a refresher," Iowa head coach Lisa Bluder said. "They are well-rested, sharp, and ready to go into this game against UNI."
 
The Panthers (5-3) are on a two-game winning streak and boast quality wins over Creighton and IUPUI. They haven't played since Dec. 4.
 
Tip-off Sunday is set for 2 p.m. (CT) with a live stream on BTN Plus.