Hawkeye Fan Shop — A Black & Gold Store | Hawk Talk Monthly — November | 24 Hawkeyes to Watch | Fight For Iowa
Forrest White is a junior on the University of Iowa swimming and diving team. White currently sits 10th in the 100 back (48.96) and ninth in the 200 back (1:45.77) in the Iowa record books.
What goals do you and the team hope to accomplish this year?
"Individually moving up in the Big Ten is a goal of mine. I got 25th in the Big Ten last year, which I was disappointed with. Moving up and making the 'A' or 'B' final in the 200 back would be good, but I've also put in some work on my 200 free and 500 free. Getting a final swim in those three events would be great.
 
"As a team, moving up in the Big Ten rankings and contending with Michigan, Wisconsin, and other top teams."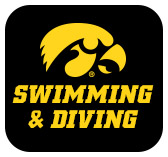 How has the team transitioned from last year to this year?
"We've grown this year and we have an experienced group of seniors. They are leading the way for us, Jack (Smith) being an NCAA qualifier, he knows what it takes to get there and that spreads throughout the team."
What has been your favorite memory surrounding the team?
"Winning the Purdue meet last year by going 1,2 in the relays to win in the final event. We won by only two points."
What is your best advice for this year's freshmen?
"Study hard, go to class, and trust the coaches. If you have any questions ask the coaches because it doesn't hurt to ask."
What is the best advice you were given by a coach?
"Work hard when there are no lights on. Work hard out of competition so when those lights do come on you can show everyone."
Who has been the most influential person to you since you came to Iowa?
"My lane seven lads have been influential to me. Jack (Smith) leads that and holds people accountable and I know that when I'm training with him I'm being pushed."
What made you choose Iowa?
"I liked the coaching staff, amazing facilities, Saturday football games are the most amazing thing I've experienced before, and being part of a team that has started climbing the rankings is special."
If not swimming, what other sport would you enjoy the most?
"I would be playing lacrosse. I'd be a lax bro."
 
What do you do to prepare before meets?
"I do a little of loose swimming, alternate kicking fast/easy, maybe throw a parachute on for resistance training. I do that pretty consistently."
What is your favorite place to be on campus?
"The Gerdin Athletic Learning Center would be my top place. They have some good food and you can get quality studying done."
Favorite meal?
"Two McChickens and a McDouble."
Who is your favorite person on the team to be around and why?
"I'd have to say Jack (Smith). He gave that to me so I have to give that back to him. I think it's important to hang around people who can help you improve in any way. Just his
demeanor on the way he approaches things takes the job aspect out of swimming and makes it fun. He can always make you laugh in a hard set, but yell at you if you aren't doing well."
Favorite movie?
"Southpaw."
Favorite book?
"Maybe a little Slight Edge or What Drives Winning. Possibly Harry Potter."
Ideal superpower?
"Super strength so no one could mess with me."
Favorite hobby?
"Gaming."