Outback coverage: Nate Wieting | Outback coverage; Touch Down in Tampa | Outback coverage: Outback Memories | Outback coverage: Hauling the Hawkeyes to Tampa | Outback coverage: Miguel Recinos | Outback coverage: Nate Stanley | Outback coverage: Amani Hooker | Outback coverage: Nick Easley | Outback Bowl Central | Outback coverage: Ryan Schmidt | Outback coverage: Austin Schulte | Outback coverage: Offense | VIDEO — Brandon Smith | Smith Grows in Front of Everyone's Eyes | 2017 Freshman Spotlight: Brandon Smith | Outback coverage: Team Night at Lightning
By DARREN MILLER
hawkeyesports.com
TAMPA, Fla. — The Smith home in Lake Cormorant, Mississippi, divides every November when the Egg Bowl football game between Mississippi and Mississippi State is played.
 
It will divide for the 2019 Outback Bowl, too.
 
Brandon Smith of Lake Cormorant is an emerging 6-foot-3, 219-pound sophomore wide receiver for the University of Iowa football team. His mother, Tyjauna, ran track at Ole Miss. His father, Roy, and sister, Briana, were on track and field teams at Mississippi State.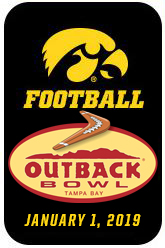 When the Egg Bowl rolls around every fall, Tyjauna is at odds with her husband and daughter. There will be a new wrinkle in the family rivalry Jan. 1 when Iowa (8-4) takes on No. 18 Mississippi State (8-4) in the 33rd annual Outback Bowl in Raymond James Stadium.
 
"When we found out we were playing Mississippi State, my mom and sister were super-excited," Smith said. "My sister said she is going to come to the game with an Iowa shirt but a Mississippi State cowbell."
 
Oh, those @&$#?@ cowbells. A unique symbol of Mississippi State athletics, cowbells are rattled by Bulldog fans pregame, during timeouts, at halftime, and after Mississippi State scores.
 
"The cowbell is loud and obnoxious," Smith said. "My mom really hates those cowbells. My sister would ring it in the house just to get her mad."
 
Undoubtedly, the cowbells are viewed (and heard) as a disturbance to opposing teams. Iowa head coach Kirk Ferentz believes that Smith is mature enough to handle any extra incentive involved with the first-ever Iowa-Mississippi State matchup.
 
"Brandon has been continually improving during the course of the season, almost week-to-week," Ferentz said. "That has been good. I'm sure Brandon has a little special interest in this whole thing, hopefully that doesn't get him distracted."
 
In 2017, Smith was one of 10 true freshman to see action for the Hawkeyes. He caught passes against North Texas, Michigan State, and Northwestern.
 
After an offseason of physical and mental development, Smith has evolved into a go-to playmaker on the perimeter. He has started 11 games this season (missing the Northwestern game because of a concussion), making 25 receptions for 328 yards and two touchdowns.
 
"I grew and improved mentally and I got better physically, too," Smith said. "It's as simple as just knowing where to go, where to be, what to do, and knowing my reads.
 
"Everybody likes to talk about my physical features. I look like a football player physically, but I have improved most mentally."
 
Smith caught the attention of both Ole Miss and Mississippi State while he was earning first-team all-state honors as a high school junior and senior. Ole Miss wanted him on defense, Mississippi State waited too long to offer a scholarship.
 
As a youngster rooting for the Rebels, Smith would make an annual trek to the Egg Bowl, whether the game was in Starkville or Oxford. It's not that he was opposed to attending college in the Magnolia State, but…
 
"Once I found a home at Iowa, I wouldn't change my decision," he said.
 
Smith has a string of at least one reception in 10 consecutive games. He would like nothing more than to extend that streak, "execute at a high level and for our whole team to come out with a win" in the Outback Bowl.
 
He knows it won't be easy. Mississippi State leads the nation in scoring defense (allowing 12 points per game) and total defense (268.4 yards per game).
 
"Instead of it being intimidating, we take it as an opportunity that we're pretty excited about," Smith said. "We want to see how we match up against those guys and as long as we do what we're supposed to do and execute, I think we will be fine."
 
Smith will have at least 15 family members at the Outback Bowl. Hundreds more of his friends will watch the ESPN2 broadcast at home in Mississippi. He is flying back to Lake Cormorant the day after the game, so you know what that means.
 
"We really need to get this win," Smith said. "When I go home, I will have a lot of friends who will be in my ear if we lose."
To view an Outback Bowl Central page, click HERE.