VIDEO — Friday Practice | Outback coverage: Outback Memories | Outback coverage: Hauling the Hawkeyes to Tampa | Outback coverage: Miguel Recinos | Outback coverage: Nate Stanley | Outback Bowl Central | Photo Gallery | Outback coverage: Brandon Smith | Outback coverage: Team Night at Lightning | Outback coverage: Ryan Schmidt | Outback coverage: Offense | Outback coverage: Austin Schulte | Outback coverage: Amani Hooker | Outback coverage; Touch Down in Tampa | VIDEO — Phil Parker | VIDEO — Colbert, Hesse | Outback coverage: Nick Easley | Outback coverage: Nate Wieting
By CHRIS BREWER
hawkeyesports.com
TAMPA, Fla. – If you contain the quarterback you slow the offense. Simple enough to understand. Vague enough to apply to any football game. But difficult to execute.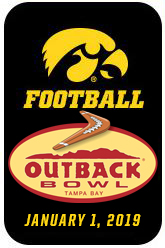 So how will Iowa slow No. 18 Mississippi State at the 2019 Outback Bowl?
"We're going to need all 11 guys to try to stop them," Iowa defensive coordinator Phil Parker said Friday after Iowa's second practice in Tampa. "Any time you play defense, everyone has a role. The better we are up front that helps us at the linebacker level and the secondary level. Everybody has to be responsible for contain."
Contain, as in, cover the quarterback. Bulldog quarterback Nick Fitzgerald has 1,018 rushing yards on a team-high 201 rushes. He has 15 rushing touchdowns this season and 45 in his career, a number that ties for fourth in the history of the Southeast Conference.
He leads an offense that scored 88 points in its last two games.
"They're explosive. Their quarterback slept on a lot of people but he can make plays on his feet. Everyone knows he can run around." said linebacker Djimon Colbert. "They have good backs too, so we have to prepare for all of the things they bring on game day, but it starts with their quarterback. He's a threat."
He's also capable of the throwing the ball, though he has only passed it 48 more times than he has tucked it: 249 pass attempts to 201 rushes.
It is not a 1:1 ratio, but it is close enough that it means Iowa will have to defend everybody.
"The way they run their offense and spread it out to different people you have to be careful of cheating too many guys in the box," Parker said. "When you do that you're going to give up big plays. The fewer big plays you give up the better defense you're going to play."
Iowa has faced dual threat quarterbacks this season. Penn State's Trace McSorley and Nebraska's Adrian Martinez were the first names to come to mind, but Fitzgerald is different.
"He's a bigger guy," Parker Hesse said. "We've faced elusive quarterbacks and his size doesn't take away from his agility and speed at all. He is their primary ball carrier so we're going to treat him as such."
Like most team's primary ball handlers, Fitzgerald does not shy from contact.
"He doesn't slide much. He likes to lower his shoulder, and we take that into consideration with the game plan," Colbert said.
The promising news for Iowa is that Mississippi State can be, and has been, slowed. In the Bulldogs' four losses (Kentucky, Florida, LSU, Alabama), they have combined to score 16 points.
Parker said Iowa will rely on its support system to replicate those results.
"Someone has to support outside. Someone has to be coming from inside out, and somebody has to be responsible for the pass. You can't have everyone playing the run. It's very challenging in that way."
Iowa (8-4) and No. 18 Mississippi State (8-4) meet Jan. 1 in the 33rd annual Outback Bowl inside Raymond James Stadium. Kickoff is at 11 a.m. (CT). The game is televised on ESPN2.
To view an Outback Bowl Central page, click HERE.