Hawk Talk Daily | Hawkeye Fan Shop — A Black & Gold Store | Hawk Talk Monthly — November | 24 Hawkeyes to Watch 2017-18
By BRANDEE BRITT
hawkeyesports.com
IOWA CITY, Iowa — A 24-point comeback win, a last second, game-winning 3-pointer, and an in-state sweep — there was no shortage of excitement during the nonconference season for the No. 16/16 University of Iowa women's basketball team.
 
Now, Iowa enters its Big Ten slate with confidence.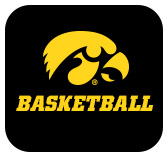 "We're getting ready to start Big Ten play, and I feel like we have done our work in the nonconference season," head coach Lisa Bluder said. "Our nonconference strength of schedule was 24th-best in the United States. It was second-best in the Big Ten.
 
"I talked to our team about how we've done our work. Now we have to take that confidence into playing in the Big Ten."
 
Iowa enters the league portion of its schedule with a 9-2 record. An impressive feat for a team that took on the nation's 24th-toughest schedule with preseason All-Big Ten selection Kathleen Doyle sidelined for the first seven games.
 
"I think all records go out the window now that you're in conference play," Bluder said. "You can't look at people's schedules right now and see how good they are. Everything starts fresh.
 
"You just take the confidence with you. The confidence that you've paid the dues, worked hard in the nonconference season, and played against the right people in order to set you up for success in the Big Ten."
 
Senior Megan Gustafson has led the way for the Hawkeyes throughout nonconference play. The senior leads the team and the NCAA in points per game (26.5), field goal percentage (74.7), field goals made (121), and double doubles (10). Her 12.5 rebounds per game rank 10th nationally.
 
In Iowa's win against Iowa State on Dec. 5, Gustafson became Iowa's career rebounding record holder. She has a chance to make more history Sunday. The Port Wing, Wisconsin, native needs just nine points to become the program's all-time leading scorer. Ally Disterhoft set the current record of 2,102 in 2017.
 
Gustafson also has the chance to become Iowa's all-time points leader (men or women). She needs 23 points to surpass Roy Marble's 2,116 career points (1986-89).
 
"I had kind of forgotten that she only needed nine points to break the record, because I wasn't wondering if she was going to break it, it was just a matter of when," Bluder said. "It has almost become less of a big deal because we all know it's going to happen, and that's sad, because it is a really big deal."
 
The Hawkeyes open their conference slate at No. 21/22 Michigan State on Sunday noon (CT) on ESPN2. Eric Frede and Kara Lawson will have the call from the Breslin Center. The Spartan are 10-1 on the season with their lone loss coming to No. 15 NC State.