Hawkeye Fan Shop — A Black & Gold Store | Hawk Talk Monthly — January | 24 Hawkeyes to Watch 2018-19 | Notes Auburn.
THIS WEEK
The University of Iowa women's gymnastics team travels to Auburn, Alabama, to take on the Tigers as it open its season on Jan. 4 at 7 p.m. (CT) in Auburn Arena.
 
WATCH/FOLLOW LIVE
Watch live on SEC Network+ (subscription required).
Live stats links throughout the season can be found on the women's gymnastics schedule page on hawkeyesports.com and auburntigers.com.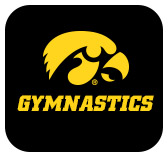 SCOUTING AUBURN
The Tigers are ranked 14 in the Road to Nationals pre-season poll.
Auburn placed 14 at the NCAA Championships in 2018.
Sophomore Drew Watson, is returning for the Tigers this season.
Watson is a 2018 All-SEC, 2018 All-freshman team, and 2018 First Year All-Academic Team honoree.
Watson competed in the all-around at the NCAA Championships.
The Tigers are led by Jeff Graba, who is in his ninth season. He is a three-time SEC Coach of the year.
 
CHOW, SULLIVAN NAMED T0 B1G WATCH LIST
Senior Nicole Chow and junior Charlotte Sullivan were named to the 2019 Big Ten  Women's Gymnasts to Watch List.
Chow enters her senior season after being named second team All-Big Ten in the 2018 season. She earned four beam titles and one all-around title. Chow competed in every meet last season and saw all-around action in nine of Iowa's 12 meets. At the Big Ten Championships, Chow set career-highs on vault (9.850) and all around (39.325), placing fourth and sixth, respectively.
Sullivan, a returning junior, competed in the all-around in every meet during the 2018 season. She was named to the All-Championship team at the Big Ten Championships. She placed third on vault with a career-high (9.875) and placed eighth in the all-around (39.275).
 
HEAD GYMHAWK
Head Coach Larissa Libby is entering her 15th season as head coach and 19th year overall.
In 2018, Libby led the GymHawks to their 18th NCAA appearance with a No.33 national ranking and a 13-win season.
Libby coached Charlotte Sullivan to being named on the All-Championship team.
During the regular season Libby coached three GymHawks–Lanie Snyder, Nikki Youd, and Nicole Chow– to second team All-Big Ten honors.
Libby takes pride in her GymHawks outside the gym as well. In 2018, a record 11 gymnasts received Academic All-Big Ten honors.
 
HAWKEYE NEWCOMERS
The GymHawks return 12 letterwinners and welcome seven new additions — Allie Gilchrist, Alexandra Greenwald, Lauren Guerin, Bridget Killian, Jax Kranitz, Carina Tolan, and Mackenzie Vance — to the 2019 squad.
Gilchrist is from Norwalk, Iowa, and trained at Chow's Gymnastics.  Gilchrist won the 2017 Region 4 Championships beam title and was runner-up in the all-around.
Greenwald, a native of Coral Springs, Fla., is a four-time qualifier for both level 10 state and region 10 championships. She is also a two-time qualifier for Junior Olympic National Invitational Tournament.
Guerin from Austin, Texas, placed seventh at Nationals on floor in 2017 and placed first on floor (9.700) at Regionals in 2016.
Killian a native of Wheaton, Ill., is a two-time qualifier for Junior Olympic Nationals Level 10. She finished as the regional champion in all-around and on floor, and runner-up on vault and beam in the 2016 Region 5 Levels 9-10 Championships.
Kranitz from Denver, Colo., won bars at both the 2017 Colorado Level 6, 9 and 10 State Championships and the 2017 Denver Winterfest Classic.
Tolan, a native of Tinley Park, Ill., placed fifth on bars (9.250) and beam (9.325) at the 2017 Illinois State Regional competition.
Vance from Buda, Texas, recorded a seventh place finish on floor at state in 2015 and placed 12th on bars at state in 2015.
 
SEASON TICKETS
Season tickets are available at hawkeyesports.com/tickets, by calling 1-800-IA-HAWKS, or at the UI Athletics Ticket Office at the north entrance of Carver-Hawkeye Arena.
Season tickets are $40 and all seating is general admission. Youth ages 18 and under and UI students receive free admission to all regular season home meets.
Season ticket holders gain admission to five home meets at Carver-Hawkeye Arena against Southeast Missouri State, Minnesota, Rutgers, Illinois, and Iowa State.
Season ticket holders receive early entrance (1.5 hours prior to the start of competition at the west entrance) to all home meets, ensuring access to the Kids Zone, limited edition posters, and other promotions.
 
PROMOTIONS
The GymHawks season opener vs. Southeast Missouri State is Social Media and Pajama Party Night.
The Kids Zone will be available for young Hawkeye fans prior to both meets and will include a poster making station. arts and crafts, the balance beam, and a special guest each week.
A few lucky fans will be selected for the "Best Seat in the House" with floor seats.
 
FOLLOW THE HAWKEYES
For an inside look at the Iowa gymnastics program and access to exclusive coverage, "like" Iowa Women's Gymnastics on Facebook and follow @IowaGymnastics on Twitter, and Instagram.
 
POSTERS
The GymHawks will have posters, magnets, and schedule cards available for free at all meets throughout the season.
 
PARKING
Parking is FREE for the home meets. Fans are encouraged to park in Lot 46, the parking lot connected to Carver-Hawkeye Arena.
 
UP NEXT
The GymHawks come back to Iowa City on Jan. 11 for their home opener vs. Southeast Missouri State at 6:30 p.m. (CT) inside Carver-Hawkeye Arena.