Hawkeye Fan Shop — A Black & Gold Store | Hawk Talk Monthly — January | 24 Hawkeyes to Watch 2018-19 | I-Club Events Page
By DARREN MILLER
hawkeyesports.com
IOWA CITY, Iowa — Head coach Lisa Bluder can control shoot-around time, meal time, and when her University of Iowa women's basketball team arrives at an away arena.
 
"We try to keep everything pretty much the same," Bluder said Wednesday at a news conference inside Carver-Hawkeye Arena.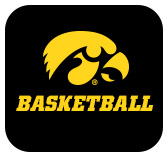 What differs from road game to road game, especially in the Big Ten Conference, is the venue and the hostility that resides within.
 
"When you're going on the road, it's more about getting used to the environment, depth perception, the lighting, understanding their band is going to be all over us," Bluder said. "Their fans are not going to be cheering for us like they are in Carver-Hawkeye Arena."
 
The 17th-ranked Hawkeyes (11-3 overall, 2-1 Big Ten) will play their second league road game of the season Thursday against Purdue (11-5, 2-1) inside Mackey Arena in West Lafayette, Indiana.
 
The Boilermakers are 9-1 at home, Iowa is 2-2 on the road.
 
"We have to get those road wins, especially key ones," Iowa senior center Megan Gustafson said. "This is going to be a big one — Minnesota coming up (Jan. 14) will be a big one, too. (It is big) getting not only our home figured out, but also stealing some road wins."
 
The Hawkeyes opened the Big Ten season at Michigan State on Dec. 30. They led by as many as 11 points in the first quarter and eight in the second, but lost, 84-70.
 
"We need to play a full 40 (minutes)," Tania Davis said of a lesson learned against the Spartans. "We feel we let up a little, especially on the defensive end in the second half. Our biggest key is to play a full 40 (minutes) because on the road, nothing is going to be easy. Ever."
 
Iowa has experience and veteran leadership on its side with three seniors and two juniors in the starting lineup. The Hawkeye starters accounted for 61 of the team's 70 points at Michigan State.
 
"We're used to being the young guns, but now that our starting lineup is all juniors and seniors, it will be important to use that to our advantage," said junior guard Makenzie Meyer. "It is important to keep looking at our past, learn from our mistakes, and use our strengths. That will be key, especially going on the road."
 
Ironically, it was Purdue that grabbed a road win last season in Carver-Hawkeye Arena, 76-70, despite a 37-point, 14-rebound performance from Gustafson. The last time the Hawkeyes won at Purdue was 72-52 on Feb. 17, 2013.
 
Gustafson says it is noteworthy that the Hawkeyes already have a Big Ten road game under their belts.
 
"We learned some things, especially down the stretch to be able to buckle down on defense," she said. "That is something we're going to focus on.
 
"We have to become closer as a team, even more so than at home. The fans won't be cheering for us (at Purdue) and we won't have that extra support."
 
Iowa and Purdue tip-off Thursday at 7 p.m. (CT). The game will be televised by BTN with Lisa Byington and Christy Winters Scott on the call.