Hawkeye Fan Shop — A Black & Gold Store | Hawk Talk Monthly — January | 24 Hawkeyes to Watch 2018-19 | I-Club Events Page
By DARREN MILLER
hawkeyesports.com
IOWA CITY, Iowa — Over the first two-plus months of the women's basketball season, the University of Iowa has enjoyed 11 victories.
 
There have been lopsided wins (67 points over North Carolina Central), close wins (three points over West Virginia and Iowa State), and yes, even road wins (Western Kentucky and Drake).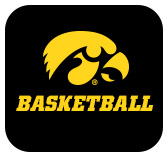 What there haven't been are must-wins and head coach Lisa Bluder is keeping it that way.
 
The No. 17 Hawkeyes (11-4 overall, 2-2 Big Ten) travel to No. 18 Minnesota (12-3, 1-3) on Monday in Williams Arena in Minneapolis.
 
Big things continue to be expected from Iowa, which is 0-2 in league road games. Despite the record away from Carver-Hawkeye Arena, Bluder isn't adding emphasis to any regular-season game, including the one Monday.
 
"There is no such thing as a must win," Bluder said during a teleconference Friday. "It is not like that. I don't want to be 1-2 (in the Big Ten), I don't want to be 2-2. Every win is important and every loss is not good. But you can't say this is a must win game. No, I don't believe that — that puts way too much pressure on our players and puts way too much pressure on this game."
 
The Hawkeyes are coming off a 62-57 loss at Purdue on Jan. 10 where they led by eight points with six minutes to play. Iowa shot a season-low 41 percent from the field, but held the Boilermakers to 39 percent shooting.
 
"It was a tough one. We had a lot of situations where we didn't keep focused and shot ourselves in our foot besides not shooting the ball well," Bluder said. "We have to put that behind us and move on to Minnesota."
 
The Gophers have lost their last three games, prompting Bluder to say she expects to "face a tiger up there."
 
Four of the Minnesota starters average double figures in points, led by redshirt senior guard Kenisha Bell at 18.5 points per game. She has attempted 118 free throws.
 
"She is probably one of the fastest guards in the Big Ten Conference," Bluder said. "A WNBA player, she is tough to handle."
 
Junior Taiye Bello averages 12.3 rebounds to go with her 10.5 points per game.
 
The Gopher bench contributes just 10.3 points per game.
 
"They aren't that deep, just like we aren't that deep," Bluder said. "It is going to be a tough challenge going on the road because we haven't picked up that road Big Ten win yet."
 
Iowa's low-post punch of Megan Gustafson and Hannah Stewart combined for 36 points and nearly 60 percent shooting from the field at Purdue. More production from the perimeter — and especially from beyond the 3-point arc — would loosen things up even more on the inside.
 
The Hawkeyes were 3 of 17 from 3-point range at Purdue and they were 4 of 18 in the other league road game at Michigan State.
 
"You can't stop shooting, but maybe you don't take the first one you look at," Bluder said. "Maybe you wait until you have that in-out opportunity. But we have shooters on this team, they have to figure out their mojo. They shoot enough, they are in the gym shooting, they shoot great percentages. They just have to learn how to take it into a game."
 
The Iowa-Minnesota game tips off at 6 p.m. (CT) on Jan. 14. It will be televised by ESPN2.