Hawkeye Fan Shop — A Black & Gold Store | Hawk Talk Monthly — January | 24 Hawkeyes to Watch 2018-19
IOWA CITY, Iowa — Blair Quinn has been named the University of Iowa soccer program's associate head coach, it was announced Tuesday by Iowa head coach Dave DiIanni. 
 
Quinn, who will coach Iowa's goalkeepers, replaces Rade Tanaskovic, who left the program after accepting a position with the Chicago Red Stars of the National Women's Soccer League.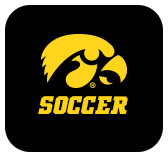 "We are thrilled to announce Blair Quinn as our associate head coach," said DiIanni. "Blair has a passion to teach the game, has a strong soccer IQ and work ethic, and West Coast recruiting connections that will make him a great addition to this program, athletics department, and institution.
 
"We would like to welcome Blair and his family to Iowa City, and we can't wait to get started as a staff."
 
Quinn joins the Hawkeyes with 16 years of collegiate coaching experience with stops at Houston, Arizona State (two stints), New Mexico State, Loyola Marymount, Kansas, Johnson County Community College, Rockhurst, and University of Saint Mary. 
 
He served as head coach at New Mexico State from 2011-13.
 
"My family and I are excited to be joining the Hawkeye family," said Quinn. "I want to thank (senior associate athletics director) Matt Henderson, Dave DiIanni, and everyone involved in the hiring process for giving me this opportunity. I can't wait to get started and help Dave, (assistant coach) Katelyn (Longino), and (volunteer assistant) Drago (Ceranic) and the entire soccer staff and team reach new heights."
 
Quinn comes to Iowa City following a two-year stint at Houston, where he was an assistant coach for the Cougars, while also assisting with the NWSL's Houston Dash.  Quinn joined the Cougars in 2017 as assistant coach and he was promoted to associate head coach for the 2018 season. Houston won 14 games in two seasons after winning 12 total games in the four seasons prior to his arrival.
 
In 2014-15, Quinn spent two seasons at Arizona State as the goalkeepers coach. He helped lead the Sun Devils to the 2014 NCAA Tournament and Arizona State made three NCAA appearances during his five-years in Tempe.
 
Under Quinn's direction, Arizona State goalkeeper Chandler Morris tied the program's second-best single-season total for shutouts, finishing with 7 1/2 in 2014.  Morris finished her career as the program's all-time leader in combined shutouts (25).
 
Quinn served as head coach at New Mexico State from 2011-13, guiding the Aggies to a single-season school record 10 wins in 2011, which included the program's first postseason victory.  New Mexico State forward Jannae Cambra earned second-team All-Western Athletic Conference honors in 2013.
 
In the classroom, the Aggies enjoyed great success during Quinn's tenure as 20 different players earned Academic All-WAC recognition.  Half of those 20 players garnered conference academic honors multiple times.
 
The Aggies broke a number of school records in 2011, including shutouts (11) and goals against average (1.14).  Elise Nordin became the first player in program history to earn second-team CoSIDA/Capital One Academic All-District 7 honors.
 
Quinn served in his first stint at Arizona State from 2007-10, helping lead the Sun Devils to their first NCAA Tournament appearance since 2003. Under his direction, Brianna Silvestri posted a school record for goals against average (0.85) in her first season as a full-time starter. The following season, Silvestri broke her own record with a 0.77 goals against average during a season where she posted six shutouts and was a NSCAA National Player of the Week honoree.
 
Before moving to the Pac-12, Quinn served in coaching positions at Loyola Marymount in Los Angeles and as a volunteer assistant at Kansas in 2006, where he helped the Jayhawks to an 11-win season.  Quinn spent the 2015-06 season as an assistant coach at Johnson County Community College and he was a graduate assistant at Rockhurst University in Kansas City, Missouri, during the 2004-05 season.
Quinn began his coaching career as an assistant coach at the University of Saint Mary in Leavenworth, Kansas, working with both the men's and women's programs for two seasons from 2000-02.
Quinn played professionally from 1997-2003. He started his professional career with the Tallahassee Scorpions of the Eastern Indoor Soccer League before playing with the Sacramento Knights of the Western Indoor Soccer League. Quinn was with the Kansas City Brass of the United Systems of Independent Soccer Leagues and Arizona Thunder (WISL), before he ended his playing career with the Kansas City Comets of the Major Indoor Soccer League.
As a three-year starter at goalkeeper at Rockhurst University (NAIA), Quinn garnered first-team NAIA All-America and second-team National Soccer Coaches Association of America (NSCAA) All-America honors. As a senior he led the Hawks to the NAIA Final Four and still holds Rockhurst records for shutouts in a season (15) and career (37).
Quinn earned a bachelor's degree in communications in 2005 from Rockhurst University. He also has earned several coaching licenses, including United States Soccer Federation (USSF) National "A" License, United States Soccer Federation (USSF) National Goalkeeping License and the NSCAA National Youth Diploma.
A native of Overland Park, Kansas, Quinn and his wife, Lacey, have two sons, Aidan and Riley.