Hawk Talk Monthly — January | 24 Hawkeyes to Watch 2018-19 | Fight For Iowa | Request for 2019 Football Tickets
By JAMES ALLAN
hawkeyesports.com
IOWA CITY, Iowa — University of Iowa head football coach Kirk Ferentz put a bow on the 2018 season Thursday with an end-of-season, 32-minute news conference inside the Stew and LeNore Hansen Football Performance Center.
 
The Hawkeyes finished the season with a 9-4 record and a No. 25 national ranking by The Associated Press after defeating No. 18 Mississippi State in the 2019 Outback Bowl.  It is Iowa's first end-of-year ranking since 2015.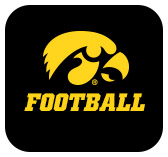 "It's always good to finish on a positive note," said Ferentz. "The most important thing about the game is how we won. They did a great job in all segments.  They played hard, determined, and clean football and played the full 60 (minutes).
 
"We knew it was going to require that, playing a team as talented as Mississippi State."
 
ABOUT THOSE NATIONAL RANKINGS
The Hawkeyes finished 25th in the AP rankings, but came in just outside the top 25 in the ESPN/Coaches' poll.  The team occupying the 25th spot? 
 
Mississippi State.
 
"I don't know if anybody realizes we played Mississippi State in a bowl game and beat them," said Ferentz of the Hawkeyes' 27-22 Outback Bowl win on Jan. 1 in Tampa, Florida. "I am a coach, so the way my mind works is they were 18th, we have a better record and beat them.
 
"They were 18th, so I would have put us 18th.  It illustrates that people don't look at what they're doing and pay attention."
 
IOWA'S POST-BOWL EVAL
When the Hawkeyes returned from Tampa, the coaching staff began roster evaluations for 2019. It was the first step in replacing a senior class that won 23 conference games, 37 total games, and went 12-0 in rivalry games against Iowa State, Minnesota, and Nebraska.
 
Iowa must also move forward without NFL Draft declarations — Noah Fant, T.J. Hockenson, Anthony Nelson, and Amani Hooker.
 
"When we go through the roster evaluation, it becomes apparent that what you lose is significant every year, and the other is, we have a lot of good players coming back and guys that have an opportunity to grow," said Ferentz. "That's key for us right now.
 
"We're looking forward to seeing how this senior group can come together and the leadership they can provide and how other players can take advantage of opportunities.  That began with our winter program."
 
4-2-5?
With the emergence of Hooker at the star position, the Hawkeyes transitioned to a 4-2-5 defense in Week 6 to match with spread offensive attacks.
 
The move paid dividends, as Iowa finished the season ranked seventh in total defense (293.6 yards) and 11th in scoring defense (17.8).  The Hawkeyes had 20 interceptions, ranking second nationally, with 18 coming after Iowa made the move to the 4-2-5.  So it's here to stay, right?
 
"My question for (the defensive staff) was, we just lost the guy that allowed us to do that," Ferentz said of Hooker. "What's our answer for that?  We have options back there, but those are the things we need to figure out between now and August.
 
"We have to see what the players look like in spring ball and go from there. We have to keep an open mind to everything to get our best 11 players out on the field."
 
NCAA PORTA-WHAT
Ferentz isn't getting caught up in the NCAA transfer portal, a new system where student-athletes can enter their names into a database, allowing athletes to pursue and talk to other schools without restriction, all while remaining enrolled at their present school.
 
Ferentz says he hasn't looked at the portal, but Hawkeye staffers are keeping tabs on it.
 
"That's not a place I see us going shopping extensively," said Ferentz. "We have guys looking at it, but that's not going to be the first store we go to if we go shopping."
 
FERENTZ FIRSTS
The University of Iowa started spring semester classes before Martin Luther King Day for the first time in Ferentz's 20-year tenure. The Hawkeyes also had a program-record six early enrollees with freshmen Alex Padilla, Jestin Jacobs, Ezra Miller, Daraun McKinney, Shadrick Byrd, and Justin Britt joining the program in January. 
 
Iowa also welcomed junior college linebacker Willie O'Hara from Iowa Western Community College on Jan. 14.
 
7 IN KINNICK STADIUM IN 2019
The Hawkeyes open the 2019 season Aug. 31 against Miami (Ohio) and follow that with their Big Ten opener at home against Rutgers on Sept. 7.
 
Iowa will play seven home games, including Homecoming on Oct. 19 against Purdue and border battles in back-to-back weeks against Minnesota (Nov. 16) and Illinois (Nov. 23).
 
To request tickets for the 2019 season, click HERE.