Hawkeye Fan Shop — A Black & Gold Store | Hawk Talk Monthly — January | 24 Hawkeyes to Watch | Fight For Iowa | B1G Championships Central | iowa v wisconsin v northwestern | Photo Gallery
IOWA CITY, Iowa – The University of Iowa men's swimming and diving team captured a pair of Big Ten wins over No. 24 Wisconsin and Northwestern on Saturday afternoon at the Campus Recreation and Wellness Center.
 
The Hawkeyes downed the Badgers, 164-136, and Northwestern, 194-106.  The Iowa women's team dropped a pair of league duals, falling to No. 12 Wisconsin, 191-109, and Northwestern, 178-122.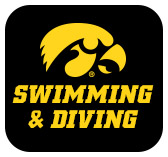 SHOOTING FOR GOLD
Junior Hannah Burvill captured a pair of wins, swimming to titles in the 200 free (1:49.61) and 50 free (23.40). She also placed second in both the 100 free (50.78) and as part of the 400-free relay.
 
Junior Michael Tenney also boasted two individual wins in the 200 free (1:37.48) and 200 fly (1:48.43). He later placed second in the 100 fly (48.72).
 
Senior Will Brenner also dominated the 1-meter springboard board with a score of 362.45. He completed the springboard sweep with a first place finish on the 3-meter with a score of 374.95.
 
Redshirt freshman Aleksey Tarasenko debuted with a win in the 100 free with a time of 44.71, while junior Joe Myhre was runner-up in a time of 44.89.
 
PODIUM DOMINANCE
Sophomore Jayah Mathews and freshman Sam Tamborksi solidified the boards with two second and third place finishes on the 3-meter and 1-meter springboards.
 
Senior Kenneth Mende finished second in the 100 back with a time of 49.13 and placed third in the 200 back (1:46.66).
 
Freshman Andrew Fierke was runner-up in the 1,000 free (9:24.28) followed by freshman Mateusz Arndt, who placed third in 9:25.03. Arndt also won the 500 free in a time of 4:27.70.
 
Sophomore Kelsey Drake earned a pair of second-place finishes in the 200 fly (1:59.73) and 100 fly (54.81). Senior Kelly McNamara placed third in the 100 fly in 54.98.
 
Sophomore Daniel Swanepoel finished second in the 200 breaststroke (2:02.98), while freshman Anze Fers Erzen was second in the 200 IM (1:51.35).
 
SPRINT SUCCESS
Juniors Will Scott (20.09) and Joe Myhre (20.21), and senior Jack Smith (20.54) swept the 50 free with a 1-2-3 finish.  The trio also contributed to a first-place finish in the 400-free relay (2:57.41) and 200- medley relay (1:29.77).
 
HEARING FROM SENIOR KENNETH MENDE
"These wins feel pretty good. Since I've come here we haven't swam Wisconsin and it's always good to get a Big Ten win. The Big Ten Championships are going to be exciting. When I came here four years ago, I saw us host Big Tens and the NCAA Championships, which was great to see. It's going to be something nice to finish my career with. We're feeling good overall and we're in a good place going into the rest of the season. Personally, I feel good and I'm happy with my results this year. Getting down to the details for the rest of the season is important to finish out our schedule."
 
HEARING FROM SENIOR DEVIN JACOBS
"It's bittersweet to end this meet. I had a lot of fun today especially with all the energy from the team. That was probably the best meet of my career, which makes me happy going into the rest of the season. I'm proud of myself and the team for working so hard this season. It may not show in point totals, but it shows how many goals we're meeting going into every meet. We're excited moving forward."
 
HEARING FROM HEAD COACH MARC LONG
"Our league is very competitive. We stepped up and raced well today and got two important wins. We didn't get the overall win with the women, but I was proud of how they stepped up on the boards and in the water against this elite competition. Everyone was hungry to get up and race. There is an immediate impact with both Alexsey (Tarasenko) and Lauren (McDougall) joining the teams both in the water and with the teams. It's important to get as many swims as possible. We're excited to get on the road and have some gritty racing over the next few weeks."
 
FINAL SCORES (MEN):
No. 24 Wisconsin 188.50, Northwestern 111.50
Iowa 164, No. 24 Wisconsin 136
Iowa 194, Northwestern 106
 
FINAL SCORES (WOMEN):
No. 12 Wisconsin 166.50, Northwestern 133.50
No. 12 Wisconsin 191, Iowa 109
Northwestern 178, Iowa 122
 
UP NEXT
The Hawkeyes return to action Jan. 25, opening the two-day Shamrock Invitational in South Bend, Indiana.