24 Hawkeyes to Watch 2018-19 | Hawk Talk Monthly — February | Hawkeye Fan Shop — A Black & Gold Store
By JAMES ALLAN
hawkeyesports.com
IOWA CITY, Iowa — Ten days has felt like an eternity for the 16th-ranked University of Iowa women's basketball team.  It has been 10 days since Hawkeyes last played inside Carver-Hawkeye Arena.
 
Iowa returns to Mediacom Court for the first time since Jan. 27, hosting No. 23/21 Michigan State in a top 25 matchup Thursday at 8 p.m. (CT).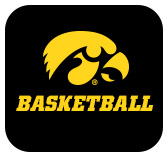 "It feels great to be back in Carver," said senior Megan Gustafson, who leads the nation in scoring with a 26.6 average. "It feels like we haven't had a home game in so long. I love Carver-Hawkeye Arena and my teammates say the same thing. We're excited to have our fan base and support; they feel like our sixth man in a way."
 
Gustafson is also looking forward to getting another crack at Michigan State — a team that handed the Hawkeyes their first Big Ten loss, 84-70, in the first conference game of the season Dec. 30.  
 
Iowa led 43-37 at the break before being out-scored, 47-27, in the second half.  The Spartans had four players score in double figures, led by Nia Clouden's 27 points, courtesy of six 3-pointers, and a 20-point, 17-rebound effort from center Jenna Allen.
 
"We learned it takes four full quarters to get a great win in the Big Ten, especially on the road," said junior guard Kathleen Doyle. "We let it slip away from us a little bit, and we're going to make sure that doesn't happen again."
 
Michigan State has won three straight games to improve to 16-5 overall, 6-4 in Big Ten play.  The Spartans beat Illinois and Purdue at home with a road win at Michigan sandwiched in between. 
 
"At times, Michigan State hasn't played well on the road, but they got that monkey off their back last week at Michigan," said Iowa head coach Lisa Bluder. "That game will give them more confidence coming into Carver.
 
"They are one of the best teams in the league as far as height, depth, and athleticism. They have it all — quickness, 3-point shooting, and depth at inside positions.  They're a tough opponent."
 
The Hawkeyes are tough, too, especially inside Carver-Hawkeye Arena. Iowa is 11-0 this season, which includes a 72-66 victory over No. 14/18 Rutgers on Jan. 23.
 
"(The players) are confident (at home), and they enjoy playing in front of their fans and in the comfort of Carver-Hawkeye Arena," said Bluder. "They are playing with more joy on their home court.
 
"It's an 8 p.m. tip Thursday, and we're hoping there will be energy in Carver. We know the weather isn't supposed to be the best, but are hoping people come out.  Kids are free, we know it's a late tip, but we're hoping we will get people here to keep sharing this journey with us."
 
GUSTAFSON'S JERSEY WILL BE RETIRED… AFTER THE SEASON
Bluder says talk of what is going to transpire with Gustafson's No. 10 jersey continues to come up in conversation, so she provided some answers.
 
"I have full support from (Henry B. and Patricia B. Tippie Director of Athletics Chair) Gary (Barta) and our administration (that Megan's jersey will be retired), it's just a matter of when it will be done," said Bluder. "I want to put it to rest that it won't happen during our season, we have more basketball to be played.
 
"To me it is a distraction and it's something that happens when your career is over.  We're hoping Megan's career goes a little bit longer, well into March."
 
Bluder says the best way for fans to honor Gustafson is to support the team.
 
"The way people can get behind her is to come out and watch her play in person," said Bluder. "That's a great way to honor her.  When the time is appropriate we will (retire her number), but we'll wait for the right time."
 
Thursday's game will air live on BTN with Lisa Byington and Brenda VanLengen on the call.  Tickets are available for $12 for adults and free for youth and UI students by clicking HERE.