Hawkeye Fan Shop — A Black & Gold Store | Hawk Talk Monthly — February | 24 Hawkeyes to Watch 2018-19 | I-Club Events Page
By DARREN MILLER
hawkeyesports.com
IOWA CITY, Iowa — You know a big game is coming when University of Iowa head women's basketball coach Lisa Bluder whips up a batch of chicken enchilada soup before dissecting game film.
 
Shortly after Bluder's 13th-ranked Hawkeyes disposed of Illinois, 88-66, on Thursday in Carver-Hawkeye Arena, she served soup to staff before putting a game plan together for Sunday's showdown against No. 8 Maryland.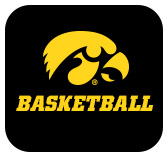 "We get a little something to eat and (Thursday) night yes, I made some homemade soup because I wanted something healthy for us to eat after the game," Bluder said Friday during a teleconference. "Basically, we go through the last game — the Illinois game — to see what we can learn from that because we want to show the team in practice and then start getting ready for Maryland.
 
"We break up in groups — some are working on Illinois, some are working on Maryland — and then combine our efforts at the end of the night. (Friday), it's business as usual: watch more film and get ready for practice."
 
By 11:30 p.m., the coaches headed home with a win and full belly under their belts.
 
Chicken enchilada isn't your average, run-of-the-mill soup. Maryland-Iowa isn't your average, run-of-the-mill basketball game. The Terrapins are on top of the Big Ten with a record of 23-2 overall, 12-2 in league play; Iowa is second at 20-5, 11-3.
 
Under Bluder, it is the 10th time the Hawkeyes have won 20-or-more games in the last 12 seasons. This could be the biggest women's basketball game in Carver-Hawkeye Arena since Iowa defeated Miami, 88-70, on March 22, 2015, to advance to the NCAA Mideast Regional Semifinal.
 
"You always hope that when you get to this point (in the season), games are going to mean something," Bluder said. "Certainly it means something Sunday. We're excited about the opportunity to have our only meeting against Maryland on our home court and we know Maryland is a great team. They are playing really well as of late. They have reeled eight wins in a row with their last loss being at Michigan State (on Jan. 17 in East Lansing, Michigan)."
 
Iowa can match Maryland's recent success streak. The Hawkeyes have won four in a row (by an average of 20.8 points per game) and nine of their last 10. They are 13-0 at home this season with a 17-game winning streak on Mediacom Court.
 
"Our team is in a good place, we're playing hard and we're pretty confident right now as well," Bluder said. "It is going to be a terrific women's basketball matchup."
 
Of the 21 team statistical categories charted by the Big Ten, Maryland ranks in the top three in 12 of them, Iowa in eight.
 
Iowa senior center Megan Gustafson leads the league in scoring (27.3 points per game), rebounding (13 rebounds per game), and field goal percentage (70.9). Maryland freshman guard Taylor Mikesell is tops in 3-point field goals (73) and 3-point field goal percentage (42.9), while sophomore guard Channise Lewis hands out a Big Ten-best 5.1 assists per game and has a 2.7 assist-to-turnover ratio.
 
On defense, the Terrapins are primarily a pressing team, which will test Iowa's guard court, especially senior Tania Davis and junior Kathleen Doyle.
 
"A lot of times Maryland doesn't turn you over, you turn yourself over against this press," Bluder said. "It just wears on you and pretty soon you make a bad pass. You lose your focus a little bit. It is us keeping our composure on our home court and sticking to the game plan as far as breaking this press with confidence. The best way to get a team to take off the press is to score off it; attack it aggressively and score off it, because no coach likes to have that happen to them."
 
Sunday's game begins at noon (CT). It is National Girls and Women in Sports Day and the annual Pink Game presented by the University of Iowa Community Credit Union. Tickets may be purchased HERE.