Hawk Talk Monthly — February | Hawkeye Fan Shop — A Black & Gold Store | 24 Hawkeyes to Watch | Finals Photo Gallery | B1G Championships Central | Finals Photo Gallery | Fight For Iowa | friday finals results | Photo Gallery
IOWA CITY, Iowa — The University of Iowa men's swimming and diving team completed day three of the Big Ten Championships on Friday with team-wide personal records.
 
RELAY ACTION
The 200-free relay team of Joe Myhre, Jack Smith, Will Scott, and Steve Fiolic placed fourth overall with a time of 1:17.65, ranking third in school history. Myhre's lead off split of 19.70 was .05 seconds off his open time on Thursday.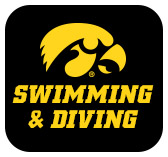 FINALS FINISHES
Freshman Anze Fers Erzen moved up in the Iowa record books with a time of 3:50.09, edging Michal Tenney's preliminary time of 3:50.10 for fourth in program history. He finished 18th in the finals. Freshman Dolan Craine took seventh in program history with a prelim time of 3:52.68.
 
Freshman Aleksey Tarasenko swam a 1:35.10 in the 200 free finals, just behind his prelim time of 1:35.07, which snagged third in program history.  He was the runner-up in the "B" final, finishing 10th overall.
 
Sophomore Daniel Swanepoel placed 12th with the second-fastest 100 breast time in school history at 53.06. Swanepoel was followed by senior Tanner Nelson, whose personal-best of 54.44 earned ninth in school history.  
 
Senior Kenneth Mende posted a time of 47.10 in the 100 back finals, a season-best to finish 11th overall. Junior John Colin swam a career best and eighth fastest time in school history at 48.61 in prelims.
 
PRELIM PR'S
The freshman trio of Jackson Allmon (1:37.12), Mateusz Arndt (1:37.21), and Andrew Fierke (1:37.26) all posted personal records in the 200 free.
 
Freshman Caleb Babb posted a time of 54.68 in the 100 breast prelims, marking 10th all-time in Iowa history. Junior Weston Credit also posted a PR in 54.96 seconds.
 
Sophomore Jonatan Posligua dove to a personal-best off the 3-meter springboards with a score of 326.85 to place 18th overall.
 
TEAM STANDINGS
Indiana leads the championships through three days with 1,144 points.  The Hawkeyes are eighth with 359 points.
 
HEARING FROM HEAD COACH MARC LONG
"We had some near misses this morning, but overall looking at the day's best times we did well. As we look forward, there are many good things going on that will transition into tomorrow. Across the board everyone has been tearing it up. We're in the right place, but we need to step up in the morning so we can get those point opportunities at night. There are a lot of performances to go with the new day tomorrow."
HEARING FROM DANIEL SWANEPOEL
"I was happy with the way I felt during finals. I felt sluggish in the morning, but the atmosphere in finals gets me going. We've had best times throughout our whole team but we're never satisfied. We're listening to those voices in the back of our heads that are telling us to do better. I'll look to improve my starts and turns tomorrow and drop some time in my 200 (Breast)."
ORDER OF EVENTS – SATURDAY, MARCH 2
 
Prelims – 11 a.m. (CT) | Diving – 1 p.m. (CT) | 1,650 Free – 4:15 p.m. (CT) | Finals – 6:30 p.m. (CT)
200-yard backstroke (Prelims/Finals)
200-yard breaststroke (Prelims/Finals)
200-yard butterfly (Prelims/Finals)
1,650-yard freestyle (Prelims/Finals)
Platform Diving (Trials/Finals)
400-yard freestyle relay (Finals)