Hawkeye Fan Shop — A Black & Gold Store | 24 Hawkeyes to Watch 2018-19 | Hawk Talk Monthly — March
By RICK BROWN
hawkeyesports.com
 
IOWA CITY, Iowa — Senior point guard Tania Davis has played 100 games in a University of Iowa women's basketball uniform. No. 101 will carry special meaning.
 
Davis, who has come back from two season-ending knee injuries during her career, will be making her NCAA Tournament debut Friday when the second-seeded Hawkeyes (26-6) host No. 15 Mercer (25-7) in a first-round game at 1 p.m. (CT) on Mediacom Court inside Carver-Hawkeye Arena.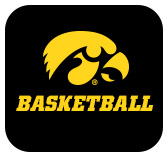 No. 10 Drake (27-6) meets No. 7 Missouri (23-10) in the second game, at 3 p.m. The winners meet Sunday.
 
"This is why I came to Iowa, to be in the NCAA Tournament," Davis said. "To be able to actually do it, with this team, is something I've always dreamed up. Now that it's here, I'm ready to take full advantage of it."
 
The Hawkeyes, rewarded with a No. 2 seed for the first time since 1996 and the freshly-minted Big Ten Tournament champion, faces a Mercer team that has won 17 consecutive games and the Southern Conference championship.
 
Senior forward Amanda Thompson (13.1 points, 10.7 rebounds) was named the league's Player of the Year by the coaches. Senior guard KeKe Calloway (17.9 points, 4.5 rebounds) was named the league's top player by the media.
 
The Bears will be focusing their attention on Big Ten Player of the Year and All-America center Megan Gustafson.
 
"We're going to compete hard and give her our best shot," Calloway said.
 
Gustafson is averaging 28.0 points and 13.3 rebounds a game, with 30 double-doubles in 32 games.
 
"You look at her stats and you think, 'These can't be real,'" said Mercer head coach Susie Gardner.
 
Gustafson and Davis were both named to the Big Ten All-Freshman team after the 2015-16 season.
 
"Seeing her named to the Big Ten All-Freshman team, you thought she was going to be one of the all-time greats," Gustafson said. "Then to see her go through those two ACL tears. Seeing what she's doing now, she's still a phenomenal player. That's incredible to see. I wouldn't want to be without her."
 
Iowa is 51-16 the last three seasons with Davis on the floor. She's averaging 10.7 points and 34.1 minutes this season. Minutes that no one in the Hawkeye program takes for granted.
 
"She came here to compete at a high level, and now it's happening in her senior year," Iowa head coach Lisa Bluder said. "Does it make it even more special because she has been denied that the last two years? I think it makes it more special for me."
 
Davis said the recovery from her first injury, an ACL tear in her right knee in the 23rd game of the 2016-17 season at Michigan, was more challenging physically than mentally. It was just the opposite after she tore the ACL in her left knee in the 12th game of the 2017-18 season at Northern Iowa.
 
The initial diagnosis after that second injury was positive. Davis ran in the hall after trainers looked her over, and there was some consideration to letting her return to the game.
 
"I decided against it, because I didn't feel comfortable and I didn't want to actually get hurt," Davis said.
 
She had an MRI done on the knee the following day.  A few hours later, she was riding in a car with teammate Alexis Sevillian when a doctor called and said she had suffered another ACL tear.
 
"I remember that day more than anything," Davis said. "I cried, then she cried. It was a tough day."
 
The rehab process this time was even more challenging, as she juggled mental obstacles as well as physical ones.
 
"It took a lot for me to get up in the morning and go to rehab and look forward to rehab," Davis said. "Just doing it every single day after I had just gone through it not too long ago. It was hard for me."
 
Bluder recalls a moment at practice early this season, when she and her staff watched Davis race up and down the floor.
 
"We were choking up because we're seeing this kid out there playing again," Bluder said. "It has been special."
 
On Friday, Davis will be rewarded for her persistence and determination when she starts in her first NCAA Tournament game.
 
"It is absolutely rewarding," Bluder said.
 
Tickets to the NCAA First and Second Rounds are on sale now. They can be purchased HERE.
 
NCAA Ticket Prices: 
All-Session Ticket Prices:
Adult: $30
Senior: $15 (50 & above)
Youth: $15 (18 & under)
Single-Session Ticket Prices:
Adult: $16
Senior: $10 (50 & above)
Youth: $10 (18 & under)